European Perl Tour 2014
At dinner after patch -p1, Wendy tried to convince me to come to FOSDEM 2014 in Brussels in February. That didn't take much convincing, although I'll have to figure out how to defray some expenses. I'd really like to give my "Instant CPAN Author" workshop again, where I take people through the entire process of getting a PAUSE ID, creating their first (simple) module, uploading it, getting a bug report, patching the module, and re-uploading it.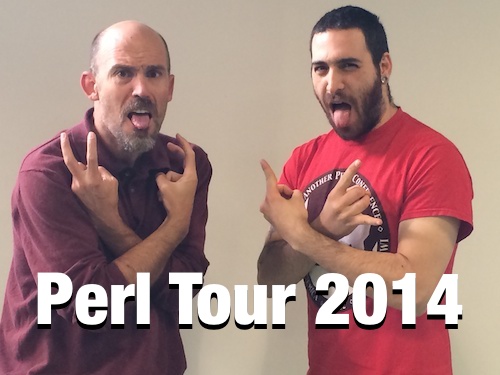 But then, Sawyer and I started riffing on that idea. We could also visit both Amsterdam.pm groups and maybe other close things. We started to get excited about a European Perl Tour, like I did in 2008 when Renée Bäcker organized several appearances for me in Germany and I was able to go through several other countries. We could tour like a band, with t-shirts, prizes, daily video updates, and a pull request a day. Curiously, we were the only ones not drinking that night.
We decided that February was a bit too close to organize something that monumental, so maybe we'll move it to summer, which gives us more time to line up events, sponsors, couches, and to find the perfect Mystery Machine for the Tour.
We'll both be at FOSDEM, I think, to plan it. Some places to consider, either in February or the summer: Oslo (center of Mojo goodness), Copenhagen, Amsterdam, London, and many other places accessible by train if we can cover expenses. If you'd like to get us to your city, start talking to us soon!