What's Freelancers?
I thought the tweet might have something to do with the paste discussion I posted to Stackoverflow by using Perl Power Tools. That answer was a lot of fun, and as I suspected, I didn't even need Perl since a user on Reddit came up with a command line using paste, head, and tail. I think I tend to learn more from my answers than anyone else.
The question posed on the Freelancers site is oddly specific for someone who wants to pay for the program. It specifies acting like a program that already exists but isn't one a newbie would reach for. It's specifies a particular implementation language although many other languages could handle it. It's oddly specific about writing a shell script as a test instead of Perl's testing framework. Homework? Maybe.
I'm curious, so I create an account and bid on it. Of the total bid, some goes to Freelancers.com and most to me. I expected that. No big whoop. I mention in my bid that they don't need me at all. Just read the Stackoverflow answer and steal my gist from it. If anyone else wants to make money off it, underbid me and take the paste from Perl Power Tools to make the -s on by default.
Once I submit my bid, I see what's going on and suspect that the question isn't even homework. The website immediately starts asking me for money to improve my chances of getting the job, or, as they say, improving my bid. I can spend a couple of bucks to promote my bid: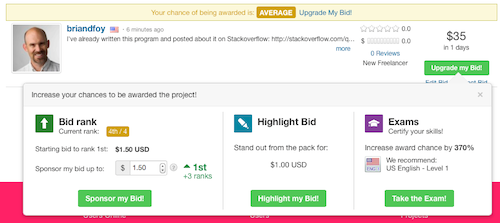 I can also buy badges, such as a level 1 English badge with, apparently, several other people completed with 100% accuracy in less than a minute after paying $5.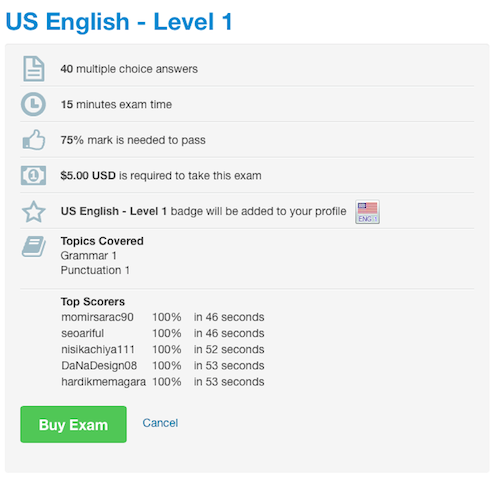 Doesn't that look suspicious? I spend a bunch of money to bid on work that I probably won't ever get and probably isn't a serious job. How would I ever know if the bid selected was actually going to do the work?
Maybe they are on the up and up and it's only this entry that looks suspicious, but I'm still disappointed that there wasn't something interesting about paste.
---
Several hours later the job mysteriously disappeared, although I got this email still trying to sell me the exam: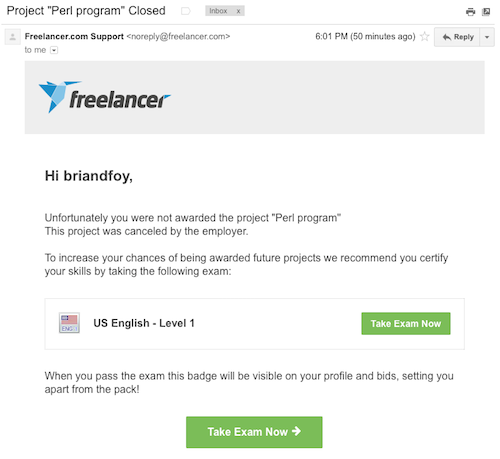 ---
And the job showed up on elance: