Kickstart Learning Perl 6!
I need everyone's help! Perl 6 had its Christmas release, it's mostly easy to install now, and the language is stable enough that something I write this year will most likely be true next year. O'Reilly wants to publish it and we already have a mock-up of a cover. I want to write this book but I need some financial space to make it possible.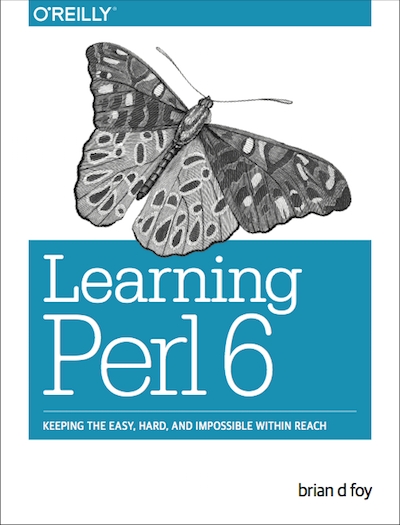 Learning Perl 6 is different than the Perl 5 ones I've written. Those were based on hours and hours of live, classroom instruction. Between all the Stonehenge instructors teaching the classes, I figure there's a good 20,000 hours of experimenting there (that's about 500 classes and there was a time we were teaching six week-long courses a month for a couple of years.) Even my Mastering Perl course has a couple hundred hours of live classroom instruction behind it.
The best way for me to figure out a tutorial book is to give live presentations. That's where I can read the room, people can ask questions right away, and I practice different deliveries, orders, and sequences. The kickstarter campaign has some rewards tailored to that. I'm especially interested in New York City companies that would host me for a day. Talk to your bosses!
I realize that a straight Perl 6 offering doesn't have immediate business value for a lot of places I might give a class, so I'm offering my regular Perl 5 training at a deep discount hoping some places will let me steal their staff for a half or full day to talk about Perl 6. I have some skin in this game too.
For what it's worth, this is what a kickstarter campaign feels like. I don't recommend it ;)