White Camels 2016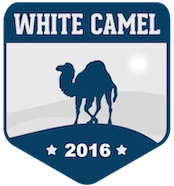 The White Camel Awards recognize outstanding, non-technical achievement in Perl. Started in 1999 by Perl mongers and later merged with The Perl Foundation, the awards committee selects three names from a long list of worthy Perl volunteers to recognize hard work in Perl Community, Perl Advocacy, and Perl User Groups. These awards have been managed by The Perl Review in conjunction with the The Perl Foundation.
At the end of each year we ask the community to nominate Perl heroes. Each year we have a long list of people we could recognize. You don't have to wait to nominate someone though. We maintain a list from one year to the next. We'll take nominations at any time, but wait to announce them on Perl's birthday.
For 2016, the White Camels recognize the efforts of these people whose hard work has made Perl and the Perl community a better place:
Perl User Groups - David Golden
You've run across David's work behind the scenes of the Perl community, and probably recognize him as "xdg" . He could have received a White Camel in any category. He's a constant force in establishing consensus for the Perl toolchain, the QA workshops, and many other social constructs that make everything work together. Besides that technical work, he's also one of the organizers of the New York Perl mongers.
Perl Advocacy - Karen Pauley
For years, Karen has been on the shortlist of people nominated for a White Camel Award for her work as the president of The Perl Foundation. For several years she has kept the gears turning, oversaw various major improvements in management, and putting everything in good order. This year she has stepped out of her role in TP. Since she's no longer part of TPF, we can recognize her with this award. Mark Keating has a much longer discussion of her work at TPF.
Perl Community - Thomas Klausner
Thomas Klausner ("domm" to many people) of the Vienna Perl mongers literally works harder than everyone else to get to Perl events. Starting in Vienna, he cycles to many events. He's worked as an organizer for several workshops in his area (most recently the first Alpine Perl Workshop). He's a core part of the conference community even if he doesn't boast about his work.