White Camels 2017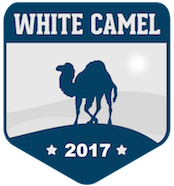 The White Camel Awards recognize outstanding, non-technical achievement in Perl. Started in 1999 by Perl mongers and later merged with The Perl Foundation, the awards committee selects three names from a long list of worthy Perl volunteers to recognize hard work in Perl Community, Perl Advocacy, and Perl User Groups. These awards have been managed by The Perl Review in conjunction with the The Perl Foundation.
At the end of each year we ask the community to nominate Perl heroes. Each year we have a long list of people we could recognize. You don't have to wait to nominate someone though. We maintain a list from one year to the next. We'll take nominations at any time, but wait to announce them on Perl's birthday.
For 2017, the White Camels recognize the efforts of these people whose hard work has made Perl and the Perl community a better place:
Perl User Groups - Laurent Boivin
Laurent Boivin has been the treasurer of Les Mongueurs de Perl since 2009. For a long time he was the force behind OSDC.fr (maybe returning in 2018) and instrumental in organizing several French Perl hackathons, including two QA Hackathons, a Toolchain Summit, and several patch.pm. It's these sorts of behind-the-scenes non-technical work that keep all of these wonderful events going.
Perl Advocacy - Rob Masic
Rob Masic is one of the co-founders of Evozon through which much Perly goodness flows. Evozon hosted YAPC::EU 2016 in Cluj and sponsors many other Perl events around the world. They support the local Perl mongers group, Cluj.pm. They donated time with their graphic designers for YAPC::EU 2014 in Sofia and for various Perl website redesigns. They created BuiltinPerl. Without the generosity of the entire company many of these things couldn't have happened. (Amalia Pomian from Evozon was a 2014 White Camel Award recipient)
Perl Community - Kurt Demaagd
For 17 years Kurt Demaagd handled the boring bits of The Perl Foundation (that's over half of Perl's age now). He was one of the founding board members and the original treasurer (serving 10 years in that role). He moved the money and took care of compliance issues--tasks not to be underestimated in either their importance or lack of recognition.