Daily CPAN upload chain broke, again !!!
Yesterday was the saddest day for me as the daily CPAN upload chain was broken again. It reminded me of the day when it happened last time when I was on 1027 days. It was the first day of my holiday in India. It was easier to cope with the heartbreak that time as I was with my parents. Like always, I had delegated the uploading task to my younger brother, who lives in Pune, India. But for some reason, he forgot to upload the tarball and when he realised it was too late.
Around 12:15pm yesterday I was about to do routine daily upload to CPAN. I immediately got "Internal Server Error" first. I have never ever seen that error before. Not sure what to do, I jumped on Twitter and asked for any advise.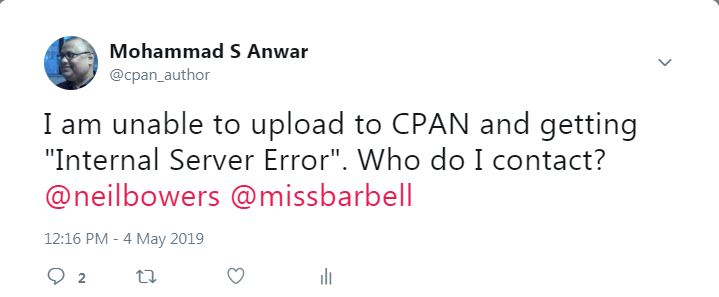 Olaf Alders responded first and suggested to reach out to #toolchain (IRC).

Little later Neil Bowers replied that he contacted Andreas and Perl NOC team by email.

By now I was getting closer to midnight and getting nervous of breaking the daily chain. At this point, briang, informed that Perl NOC hosting infrastructure is under maintenance currently. It is hosted in Holland and being holiday weekend it would take longer to get back up.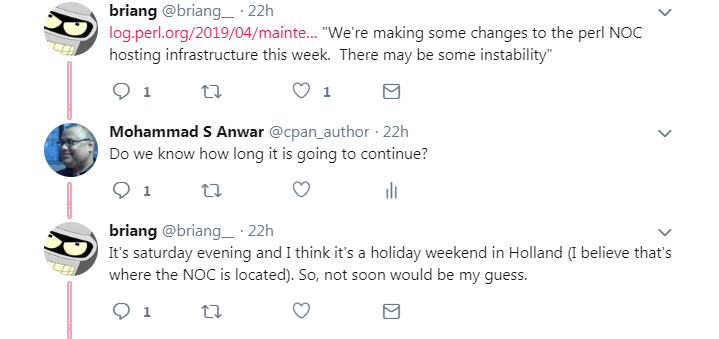 I was getting to a panic point and was wondering if there is any alternate route to upload. Neil Bowers said unfortunately there is no other alternate.
Around 2:30am, I uploaded the distribution successfully but it was too late. So the chain was broken after 621 days this time.

Within minutes, Olaf Alders responded to my tweet.

When I woke up in the morning, I was feeling low. I started working on the draft of next week PerlWeekly newsletter to keep my mind diverted. I found it hard to get that away and tweeted about the same.

To my surprise, I saw Renee Baecker sweet message.

Followed by another kind words from Herbert Breunung.

Once I submitted the draft for next week PerlWeekly newsletter and I started working on next PerlWeeklyChallenge to keep my mind busy.
I know it is just a game and not the end of the world. But for me it is more than just a game.