Swiss Perl Workshop: Schedule
What happened last month:
The camel was at a Meetup, again, together with some Perl mongers.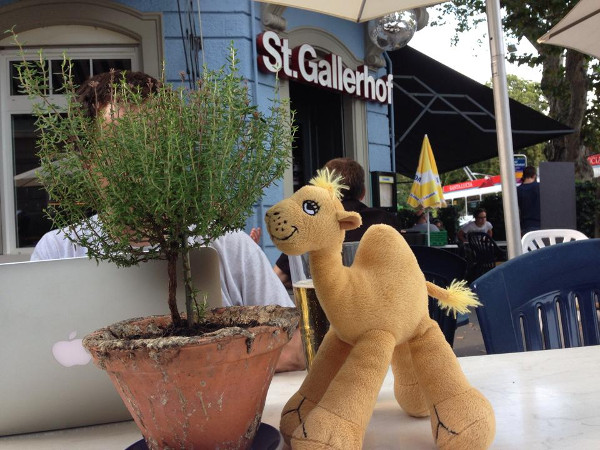 (Nobody had asked it to eat the decoration..)
Many folks submitted talks. Thank you, everybody! Without you the workshop became a bit boring.
People bought their tickets. Thank you, everybody! Without you the workshop became a bit lonely.
The organisers published a first version of the schedule.
Day one will be talks-talks-talks, on day two there will be a mixed program with talks and interactive workshops. Also, we have some more rooms for hackathons, workshops, discussion-sessions and whatever cool things you can imagine doing with fellow Perl folks in about 3 hours. Please submit such workshop-like sessions like a talk proposal.

What happens this month:
You can still book two courses by our keynote speaker, brian d foy. Intermediate Perl and Mastering Perl.
More people are going to join us. Buy your ticket soon, admission is restricted. Your attendance is quaranteed as soon as the money reaches the workshop's treasure chest.
If you would like to see even more cool things like t-shirts, cups, present bags etc. become a sponsor fast. I would say, this week.
An excellent opportunity of sponsoring is paying the business attendance. That is often easier to explain to companies than becoming a conference sponsor.
What happens in exactly one month:
Swiss Perl Workshop 2014. Yey! :-)
Thanks to our sponsors:
www.leanux.ch | www.perl-academy.de | www.oetiker.ch | O'Reilly