YAPC::Europe 2013 in Kiev, week minus 33. Countdown correction. Dates. Site
Dear YAPC::Europe attendees and those who would like to come to Kiev in August 2013,
We are very happy to announce the launch of the conference site: yapc.eu/2013.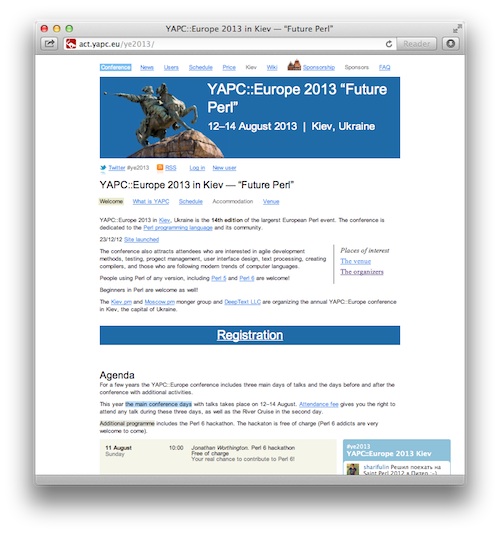 Together with that, I am correcting the week countdown counter: there's no week minus 34, and the week -35 is followed by the week -33. The dates of the conference are 12-14 August 2013. There's a negligible small change that the dates will be changed, so we will make additional announcement when we are ready. It's Christmas and New Year time, that's why we have to wait a little bit more to be 100% sure. Vyacheslav vti and Anatoly sharifulin have just returned from Saint Petersburg where they attended the celebration of the 25th birthday of Perl, which is a good excuse :-)
Anyway, if you plan to go to Kiev for the next YAPC::Europe, please register on the site. If you attended one of the previous YAPCs (not necessarily ::Europe edition), you may log in with your account on the Act system. Please don't forget to press the Join button (a red link in the site user menu will be calling you to do that).
If you wish to give a talk at the conference, you can already submit it. We set three different time lengths for the talks: 20, 40 and 60 minutes. One hour talk is only accepted for more-than-just-a-talk versions, such as small teaching classes or in-depth tutorials. As usual, we will glad if you submit a lightning talks. We hope to have three sessions of lightning talks, one at the end of each day.
We have also opened a payment system, and you can buy a ticket (20+-minute speakers do not have to do that). This year, the standard price is set to 110 €. The early bird price is 90 €, and the price for the students is 60 €. The price of one ticket for the corporate users is 400 €.
Finally, we are publishing the Sponsorship Proposal. If you or your company would like to help organising the conference and agree to sponsor us, please contact us at mail@yapcrussia.org. Beyond the official proposal we are ready to discuss other variants and sizes of sponsorship if you will not find an option that is suitable for you.
During the following weeks we will be updating and polishing our site. For instance, we will add a page about Kiev sightseeing. Also, we plan opening a hotel reservation page so that you can book a hotel with a discount. I will discuss the partnership with leading Russian booking reservation site (they also use Perl together with Python and Go) this week.
That's all for today. We wish you a Merry Christmas and we will be back in a week with more news about the conference!