Brian McCauley (1967-2015)
It is with great sadness that I pass on the news that Brian McCauley passed away yesterday morning.
Jon Allen and I first met Brian, and his wife Sam, at Charles De Gaulle airport, after the Paris YAPC in 2002. Brian was wearing a Perl T-shirt as we got into a lift, and we commented as to whether he had been to the conference. He had, and had never realised that others from Birmingham had also been attending. We immediately signed him up for Birmingham Perl Mongers, and since that day he has been a regular of social and technical meetings, although mostly technical in recent times due to schedule clashes with Saint John's Ambulance and our socials.
Brian and Sam have been to every YAPC::Europe since Paris, and even came with me to Chicago for YAPC::NA in 2008. He was a co-organiser of YAPC::Europe 2006 here in Birmingham, and helped behind the scenes with the QA Hackathon in 2009. He was a director and subsequently secretary of Birmingham Perl Mongers Limited. He has contributed to CPAN as NOBULL, and was once a frequent poster to usenet, Perl Monks and other Perl forums. So it's quite likely you have met him, talked with him, used his code or read his words in that time.
Brian also loved games, especially Fluxx. Every now and then, Birmingham Perl Mongers have a games evening and Brian was an absolute legend in helping me to figure out the rules to various new games I bought. We even set about trying to write a Perl Fluxx game many years ago, but coding the rules just got too complex. It would not be uncommon for both Brian and Sam, together with Geoff Avery, to instigate playing various variations of Fluxx at YAPC social evenings, sometimes well into the night.
Brian had an unusual wit, and took delight in watching the penny drop over something he'd said. He liked to understand things, or rather find the misunderstandings that others would miss. Talking over things with him when redesigning CPAN Testers 2.0 many years ago, he found holes in my logic and helped to plug the gaps. He also liked to find obscurities in laws and rules, such as working out that if you eat a Mars bar walking home, depositing the used wrapper in your own refuse bin was illegal. Or highlighting that Google had broken the law via the car used for Google Street Maps, when it drove on a road by Queen Elizabeth II hospital that is only legal for ambulances.
It was perhaps not too surprising he found the last one, as another passion was Saint John's Ambulance. He joined up in 1993, and has worked in many roles, including training new cadets so became well known and liked throughout the service in the West Midlands. Last year, after several years training, he finally passed his exams to drive on blue lights, which he was quite rightly proud of. He has spent so many years with SJA, that pretty much every time we saw him he had a new story to tell. He was a fan of Sci-Fi/Fantasy, Doctor Who in particular, and would proudly wear the Tom Baker-era scarf Sam knitted for him. He was very pleased to see that the latest versions of Doctor Who now had the updated SJA logo sticker on the Tardis.
Brian was diagnosed with pancreatic cancer earlier this year, but sadly it was too aggressive for treatment to be effective. We thought we would have more time with him here, but unfortunately it was not to be. Brian was not religious and would be uncomfortable to have prayers said of him. If you knew him you are welcome to join Birmingham Perl Mongers on Wednesday 13th May to raise a toast and say a fond farewell to our friend and colleague Brian McCauley. We'll be at The Dragon Inn on Hurst Street from 7pm.
Brian, you will be missed.
Brian McCauley
(4th Feb 1967 - 8th May 2015)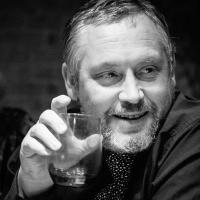 Photo by Chris Marsh.