RPerl in Brussels
As previously announced, Team RPerl was in Brussels for FOSDEM, one of the (if not the) world's largest open source computer conferences. RPerl creator Will 'the Chill' Braswell was one of the two Perl programmers invited as a main track speaker, along with Andrew Shitov, whose talk was about Perl 6 as a tool for language compilers.
It was my first FOSDEM, and the event was quite spectacular. It takes place at the Université Libre de Bruxelles, and is spread over several buildings full of stands, conference rooms, and dev rooms, all packed. At the Perl booth, Wendy and Liz were busy all weekend, promoting Perl as always. When I say booth, that includes the table covered in Perl books & stickers & other collectibles, plus the "Perl bookshelves" pop-ups, plus a huge Perl 6 banner, plus a giant stuffed camel... The latter of which is now in the pictures and selfies of many FOSDEM attendees.
As in years past, Wendy & Liz hosted a large Friends-of-Perl dinner on Saturday evening at La Porteuse d'Eau, and a smaller Perl developers dinner on Sunday at La Becasse. The food and merriment was enjoyed by all in attendance!
Will's presentation on Perl 11 attracted a large crowd as well. The main element of the talk was the "Perl Family Tree", showing the origins of Perl, as well as the very rich (and sometimes confusing) variety of projects that came from Perl 5 and Perl 6. You can watch the entire talk here:

The Perl 11 talk targeted an audience of both Perl users and non-Perl users alike. Feel free to tell us what you think of Perl 11, the Perl Family Tree, or any other element of this presentation in the comment section below.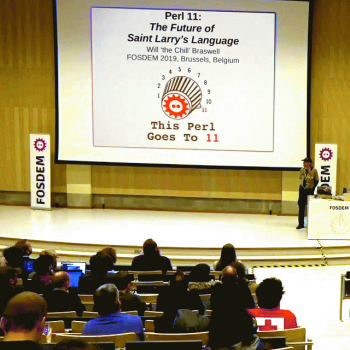 PS - We just launched the official Team RPerl page on Patreon...
Special thanks to our first 5 Patrons: Packy Anderson, Tommy Butler, Harry Braswell, Debbie Sonnycalf, and John Stuke!