RPerl at the Perl Conference in Pittsburgh - Day 1
After the Texas Linux Fest, Team RPerl went all the way across the country to attend the 2019 North American Perl Conference. This time, I was not in charge of manning a booth. Instead, I was one of the official volunteers for the 3 days of the conference.
What does a volunteer do? He or she can work as a moderator, a runner, or a cameraman, depending on the needs of each talk. The moderator makes sure the speaker follows the schedule and has time for Q&A; the cameraman records the slides and films the speaker; while the runner is there in case something is needed, such as water for the speaker, more chairs, etc.
Many of you may already know about the Perl Conference volunteer roles. I didn't, and I learned everything on the spot, thanks to Lena Hand, who is the co-chair of the conference organizing team. It was fun, I got to meet new people who ended up volunteering as well, and I enjoyed the conference for free! I also enjoyed getting to know the community a little bit more. After several software conferences now, and since my very first in Glasgow last year, there are now a few familiar faces, like Jeff Goff, Theo Van Hoesel, and Ruth Holloway, whom I moderated for, although she doesn't really need it. :-)
While I was moderating, filming, and running, Will Braswell gave a talk on the Perl Family Tree. His talk was concerned with questions such as "Where do we come from?", and "Who made all these different kinds of Perl?". Will's talk is available online here:
The first day ended with the traditional Bad Movie Night, hosted by David Adler, and featuring plastic dinosaurs, giant brains from outer space, terrible acting, and tons of popcorn. Great selection, David!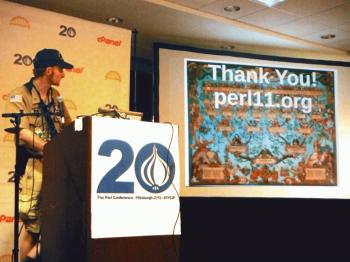 PS: Check out our Patreon page! Many thanks to our patrons: Debbie Sonnycalf, Harold Braswell, Tommy Butler, Marcus Hechenberger, Packy Anderson, Deven Corzine, Slobodan Miskovic, Stephen Scaffidi, Steven McDougall, Venkataramana & Ramana Mokkapati, Emanuele Zeppieri, Alexander Karelas, Blaine Motsinger, Kang-min Liu, Satoshi Azuma, Joshua Eric Turcotte, Allesandro Bianco, Kenta Kobayashi, John Napiorkowski, and Scimon Proctor. You're awesome, and we love you!