RPerl at the Texas Linux Festival
RPerl is back on the road! We were in Dallas for the 2019 Texas Linux Fest, another wonderful opportunity to show the open source community that Perl is alive and well! One of the participants called our booth "the coolest-looking table of the conference", and to that I must say: Thank you Wendy for showing me the way! You are my true mentor when it comes to spreading Perl love.
At the booth, we had the help of Tommy Butler, Perl programmer and leader of the Dallas Perl Mongers. On top of having a booth for the event, Will also gave a talk jokingly entitled "Start A Cult: Build A FOSS Community From Scratch". The talk was well-attended and drew more interest to our overall Perl booth activities.
Once again, we had to convince people that not only is Perl still out there, we have several exciting Perl projects happening. It is always weird to witness that despite how lively the Perl community can be, the rest of the world doesn't seem to know.
Depending on the age of each conference attendee, the reactions fall into one of three categories :
- I did a bit of Perl when I started, but I don't use it for work
- I thought Perl was dead
- I've never used Perl (for the younger generation)
Have you had the same experiences? What can we do to change that? I would love to hear suggestions on how to increase Perl presence in the FOSS community, and in the corporate world as well. One optimistic note: we were the only table representing a programming language.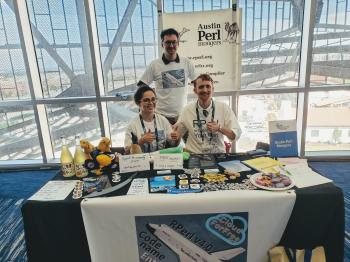 PS - We've launched the official Team RPerl page on Patreon!
Special thanks to our 5 Patrons: Packy Anderson, Tommy Butler, Harry Braswell, Debbie Sonnycalf and Markus Hechenberger