RPerl at the Perl Conference in Pittsburgh - Day 2
Day 2 of the Perl Conference, and I am now a seasoned volunteer! I know all about HDMI recorders and cameras - well, almost…
This second day saw the very first meeting of the Perl Mongeresses, a Birds-Of-a-Feather for women in the Perl community. This year's Perl Conference was notable for the highest known attendance of women to The Perl Conference ever! By highest, I mean… about 15 ladies total. Yes, there's still work to do. This meeting was the opportunity to discuss issues that women are facing in the programming world.
Thank you, Ruth Holloway, for the Perl Mongeress initiative! I'm looking forward to the second edition next year. If some of my female readers plan to attend the PerlCon in Riga next month, you still have time to add one to the BoFs...
In the afternoon, first we had the keynote by Jeff Goff, "The Seven Habits of Highly Defective Programmers", and we also enjoyed our first lightning talks. My favorite was a cover song of "Wake Me Up!" by Stephen Scaffidi, with lyrics about the hard life of the developer : "Wake me up, because I'm on call". Great job, Stephen! All these and more are available on the "The Perl Conference" Youtube channel in the "TPC 2019 in Pittsburgh" playlist:
https://www.youtube.com/playlist?list=PLA9_Hq3zhoFw2YKlCzOorEDMAzZwEgNgm
In the evening, all the participants went on the "Perl Cruise", a collective maritime adventure to discover downtown Pittsburgh in an unexpected way. We enjoyed dinner, a river's-eye view of Pittsburgh, and some karaoke! The weather was particularly nice that evening, and I'm pretty sure every participant now has a cell phone picture (or two) of Pittsburgh in the sunset.
Only one day left…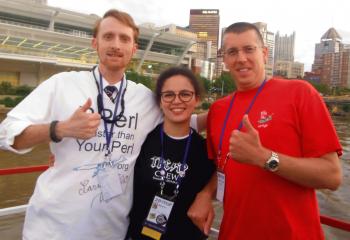 PS: Check out our Patreon page! Many thanks to our patrons: Debbie Sonnycalf, Harold Braswell, Tommy Butler, Markus Hechenberger, Packy Anderson, Deven Corzine, Slobodan Miskovic, Stephen Scaffidi, Steven McDougall, Venkataramana & Ramana Mokkapati, Alexander Karelas, Blaine Motsinger, Kang-min Liu, Satoshi Azuma, Joshua Eric Turcotte, Alessandro Bianco, Scimon Proctor, Darren Duncan, Katherine McDonald, Kenta Sato, and Kenta Kobayashi. You're awesome, and we love you!