RPerl at the Perl Conference in Pittsburgh - Day 3
Howdy!
We're back for the final day of the Perl Conference. Wendy and Liz were very much missed this year, but we had enough Perl items to set up a booth, with the help of Ruth Holloway and Peter Sargent. The table was full of buttons, stickers, tuits, and other info from Perl Careers.
On this final day we attended the traditional Q&A with Larry Wall. People were able to send their questions via Twitter, and I asked Larry who his favorite musical composer is.
I'm not a technical person, but I am a violinist, which gives me something in common with Larry Wall! Pretty cool, right? Anyway, Larry's answer was Gustav Mahler. Very good answer Larry, I myself am a Mahler enthusiast. What I remember from this Q&A session is Larry's call for peace and respect. The Perl community has a lot of great people, very different from one another. The things we have in common should always surpass our differences.
Will 'the Chill' Braswell gave both a second full talk as well as a lightning talk on the last day. RPerl is now on Docker! This is another step in making the Perl compiler accessible to all. Will's main talk was the 2019 "State of the Scallion Address", covering the work that has been done on the compiler recently, and our ideas to make Perl come back as a mainstream, trendy language that people will want to learn and use. It turns out Will's ideas are very close to what Sawyer X mentioned in his talk: we need Perl for machine learning, video games, apps, etc. We need corporate support, but we also need learning platforms for young programmers, so that they will write tomorrow's software in Perl.
The lightning talks would not be complete without a few musical pieces! Steve Scaffidi went back on stage, and Pudge gave a hilarious number! Check it out on Youtube.
I also learned that Perl is hot in Japan. The Japanese Perl Mongers are very active, and there will be a Perl conference in Japan next year!
Then it was time to say goodbye. Dan Wright gave a very emotional farewell. He is stepping down as Treasurer for The Perl Foundation. He did a great job organizing this year's conference and will be missed. Thank you Dan for all you have done to promote Perl and help the Perl community!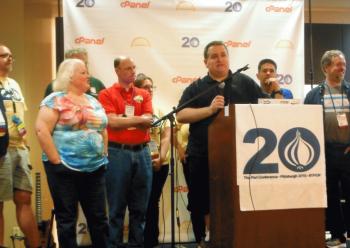 PS: Check out our Patreon page! Many thanks to our patrons: Debbie Sonnycalf, Harold Braswell, Tommy Butler, Markus Hechenberger, Packy Anderson, Deven Corzine, Slobodan Miskovic, Steven McDougall, Venkataramana & Ramana Mokkapati, Alexander Karelas, Blaine Motsinger, Kang-min Liu, Satoshi Azuma, Joshua Eric Turcotte, Alessandro Bianco, Darren Duncan, Katherine McDonald, Kenta Sato, and Kenta Kobayashi. You're awesome, and we love you!