Perl Weekly Challenge - Perl5 / Perl6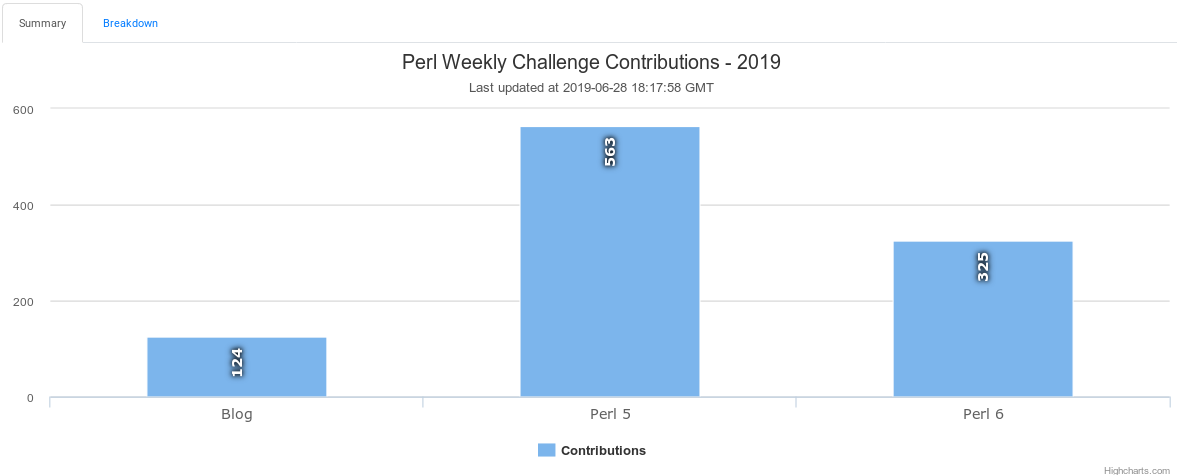 We are into the 14th week of Perl Weekly Challenge. If you look at participation of Perl5 and Perl6, based on data so far, we can clearly say Perl5 is the winner. However, I must clarify the race between the two is not objective of the Perl Weekly Challenge. But I see a pattern between the two. Perl6 solutions is always full of surprises where as Perl5 is just holding the ground. It could be because Perl5 is not new to me but anything and everything about Perl6 is new to me. Having said, some Perl5 solutions are full of surprises. I have become fan of some Perl5 contributors by the quality of code. I don't want to name just few. It would do injustice to others. Similarly there are some dedicated to Perl6 only and they are too good and great ambassador for Perl6. Damian Conway is one such who took the Perl Weekly challenge to another level.
You would also find there are few who are dedicated to both Perl5 and Perl6. Laurent Rosenfeld is one of them. Similarly others like Athanasius, Dave Jacoby, Jo Christian Oterhals, Joelle Maslak, Khalid and Scimon Proctor also contributed to both.
At the end of every week, I recap the Perl5 solutions submitted and share my point of view. I feel bad not doing the same for Perl6 solutions. I am looking for volunteers to review Perl6 solutions. It would be great if we have team of Perl6 reviewers who take turn to review Perl6 solutions. I didn't have to wait for Perl5 reviewer for long. I found fellow team member, Kian-Meng Ang, who volunteered to review Perl5 solutions every week. I am very grateful to her. She has been doing it without break since Perl Weekly Challenge - 007.
RECAP
Perl Weekly Challenge - 013
Perl Weekly Challenge - 012
Perl Weekly Challenge - 011
Perl Weekly Challenge - 010
Perl Weekly Challenge - 009
Perl Weekly Challenge - 008
Perl Weekly Challenge - 007
Perl Weekly Challenge - 006
Perl Weekly Challenge - 005
Perl Weekly Challenge - 004
Perl Weekly Challenge - 003
Perl Weekly Challenge - 002
Perl Weekly Challenge - 001
REVIEW
Perl Weekly Challenge - 013
Perl Weekly Challenge - 012
Perl Weekly Challenge - 011
Perl Weekly Challenge - 010
Perl Weekly Challenge - 009
Perl Weekly Challenge - 008
Perl Weekly Challenge - 007