Perl Weekly Challenge - 6 months

Last time we presented you the success story of 3 months. It is now time to share 6 months story with you. I would like to take this opportunity to thank each and every contributors. I would also like to take a look what have we achieved in these 6 months.Here is the list of achievements
#1 Active bloggers
I would call this one of the biggest achievements that we have had
228 blogs
in the last 6 months. On top this, we have had
11 blogs
, as listed below, by
Damian Conway
. Some of the bloggers started blogging again after long break and some were first timers. You can find all the blogs in the weekly
Recaps
and
Reviews
.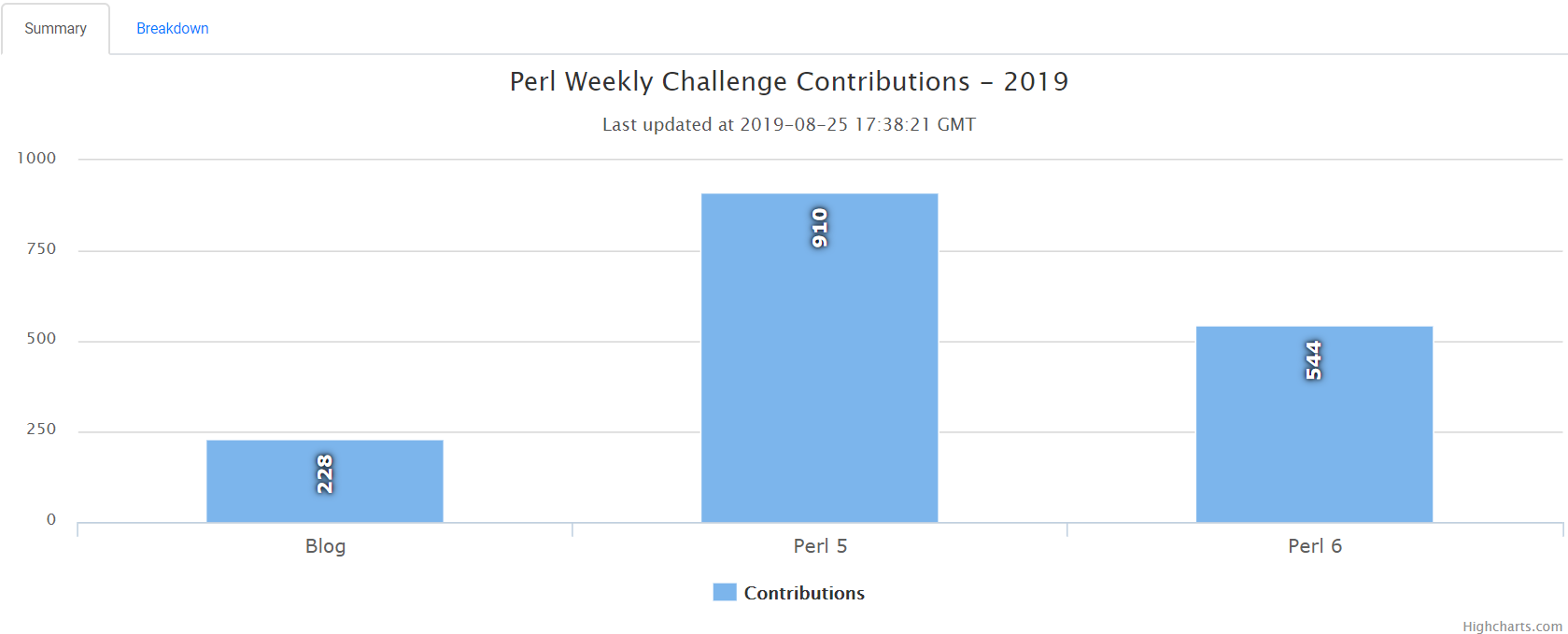 Recaps
Perl5 Reviews by Kian-Meng Ang
Perl6 Reviews by Laurent Rosenfeld
#2 Cross language participation
There is a general perception that Perl5 oldies don't get along with Perl6 guys. I have noticed few members, recently cross over and tried new language for the first time in the Perl Weekly Challenge. Consistent Perl5 contributors, e.g.
Adam Russell, Roger Bell West
, recently started contributing Perl6 solutions as well. Similarly
Kevin Colyer
, who has been Perl6 contributors since he joined the team, has started contributing in Perl5 now. There are many more such crossover. Ideally, I would want everyone to follow the footsteps of members like
Joelle Maslak, Laurent Rosenfeld, Ruben Westerberg, Jaldhar H. Vyas, Athanasius
etc and contribute equally in Perl5 and Perl6.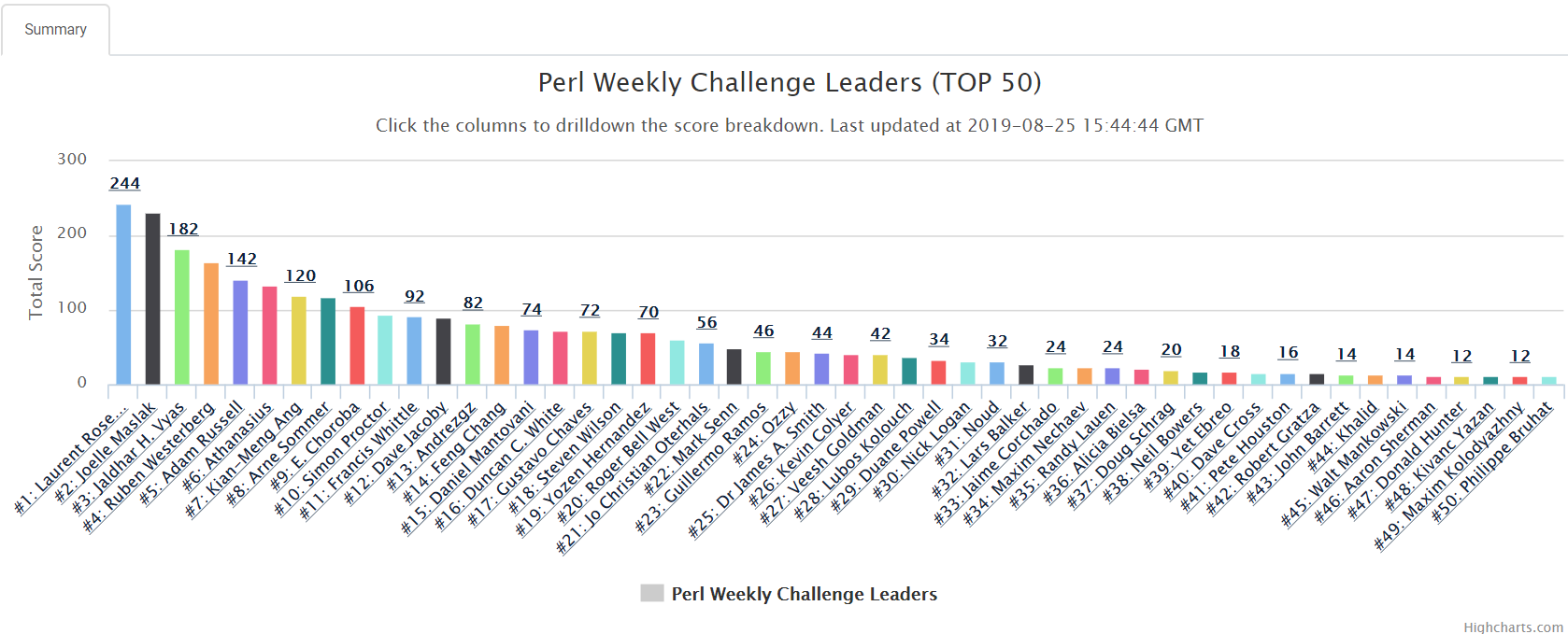 #3 Introduction of weekly contest
Thanks to
Pete
of
PerlCareers
, we introduced weekly contest during the "
Perl Weekly Challenge - 013
", where we pick one member randomly from the list of contributors for the week. In return they get
$50
Amazon voucher kindly sponsored by
PerlCareers
. So far we have had
9 champions
. You can read short interviews with the champions.
#4 100+ active members
We now have
110 active
members. I must confess that I didn't expect it to be so popular that every week I see people around the world request to join the
Perl Weekly Challenge
. However I would like to see more women participation. Currently we have less than
10% women
participation. Ideally I would like to see 50% women participation.
Joelle Maslak
is leading the women group currently.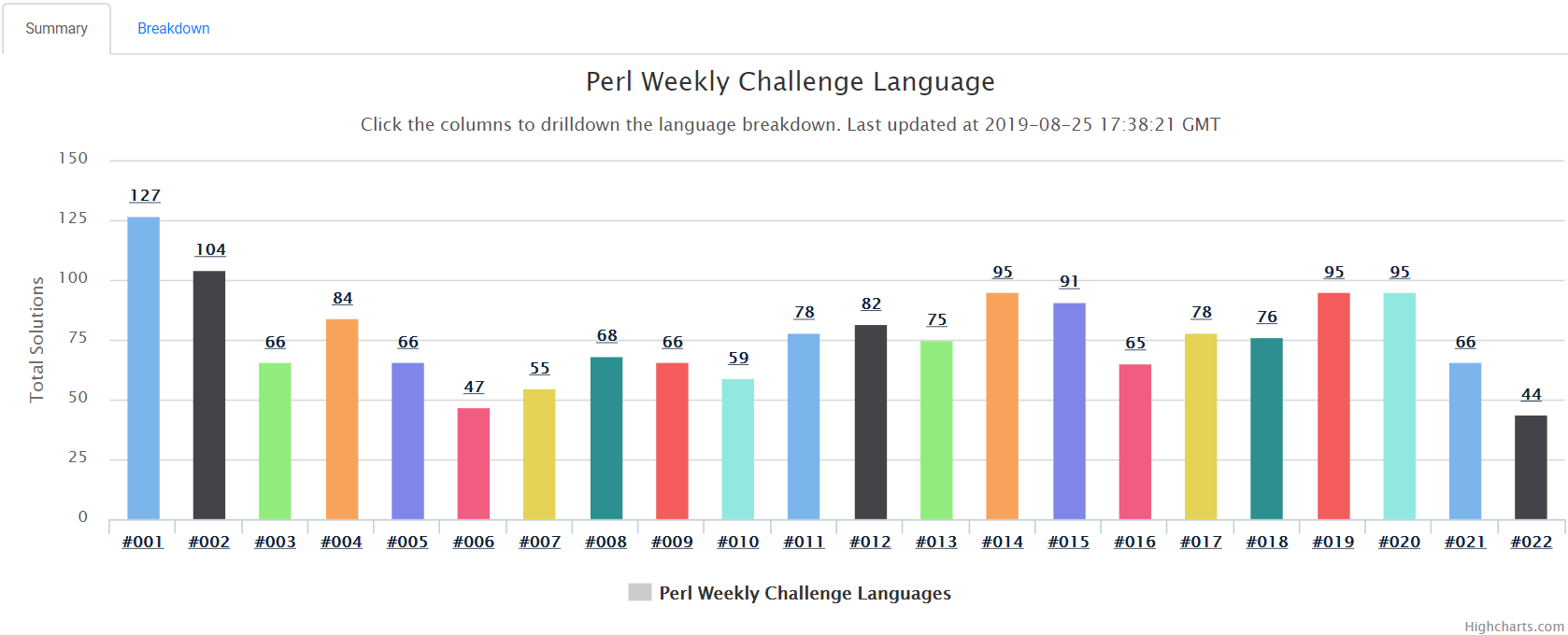 #5 Engaging Interactions
We have
170 followers
on Twitter. Most of them are very active and engage in meaningful conversations. It is so convenient to share ideas and get instant response. If you are active on Twitter then please do join us and follow
@PerlWChallenge
. All the latest news and interesting stats shared here first.
#6 Perl Weekly Challenge Club repository
We have
60 contributors
who regularly submit solutions as Pull Request. We always encourage members to submit PR. I also noticed, we received
31 stars
by the members. It is the most starred repository in my GitHub profile. I have registered a domain
perlweeklychallenge.club
that will expose the data in the repository in a user friendly manner. I haven't had chance to work on the design yet. Any help would be highly appreciated. Any suggestions? Please do share with us. If you are active on GitHub and would like to follow what is going on then please do watch/star the
repository
.
#7 Damian Conway's contribution
Damian
joined us un-officially and blogs about his solutions to the weekly challenges. I have never seen
Damian
so actively blogging.
#8 Neil Bowers contribution
Neil Bowers
is officially joined the team of
Perl Weekly Challenge
. Although he is not regular but every now and then when he gets time he does contribute. Few weeks ago,
Perl Weekly Challenge - 015
, to be precise, there was an optional API task to use
Language Detection API
. He came up with a dedicated CPAN distributin
WebService::DetectLanguage
. He didn't stop there and contacted the team at
detectlanguage.com
and informed them about the new CPAN module. They have now listed Perl as one of the supported languages.
#9 Guest Participation
During the "
Perl Weekly Challenge - 018
", we have had guest participant,
Orestis Zekai
, working as a Software Engineer, shared solution in
Python
. You can find his solution to
Task #1
and
Task #2
. We now have re-structured format slightly to accommodate guest participation. If you know anyone who is keen to participate in the weekly challenge then please do encourage. We value every Guest's participation.
#10 Guest Reviewers
Ever since the challenge started, I was looking for helping hand to review the weekly solutions. First offer came during the "Perl Weekly Challenge - 007" from
Kian-Meng Ang
to review Perl5 solutions every week. I am grateful to
Kian-Meng
for doing this without break. Couple of weeks ago,
Laurent Rosenfeld
offered to review Perl6 solution every week. Not only, he offered to review past week solutions as well. You can find both Perl5 and Perl6 weekly reviews above.


Last but not the least, we are thankful to everyone who participated the Perl Weekly Challenge every week and spread the word. I would also like to thank Mark Keating, Barbie, JJ Merelo, Gabor Szabo for the encouragement. I will come back again in 3 months with more positive news and success stories.