The PerlCon 2019 Riga - Report
Last week, I attended my second European Perl Conference in Riga (PerlCon). I was very lucky this time, I went alone for the Conference and arrived at the hotel a day before i.e. 6th August 2019.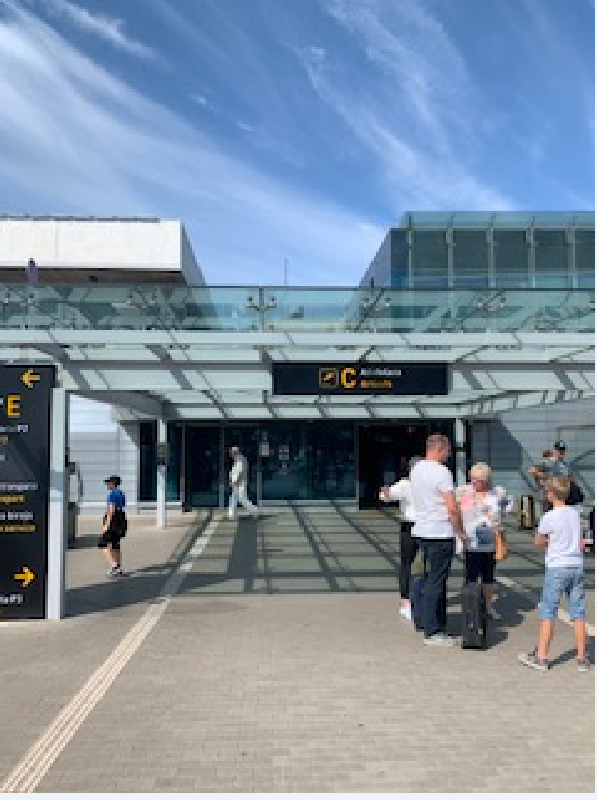 At the airport, I met Mark Keating and his team waiting for their taxi to take recording kits. I booked my taxi and went to the hotel by myself. By the time, I reached hotel, it was 12 'o clock but the check-in time was 3 pm. I had to kill few hours before I could check-in. I saw Barbie and his team in the Lounge relaxing. I feel so confident now that I went straight to him to say "Hello". He suggested place across the bridge for quick tour. I handed in my trolley bag and went on a short tour.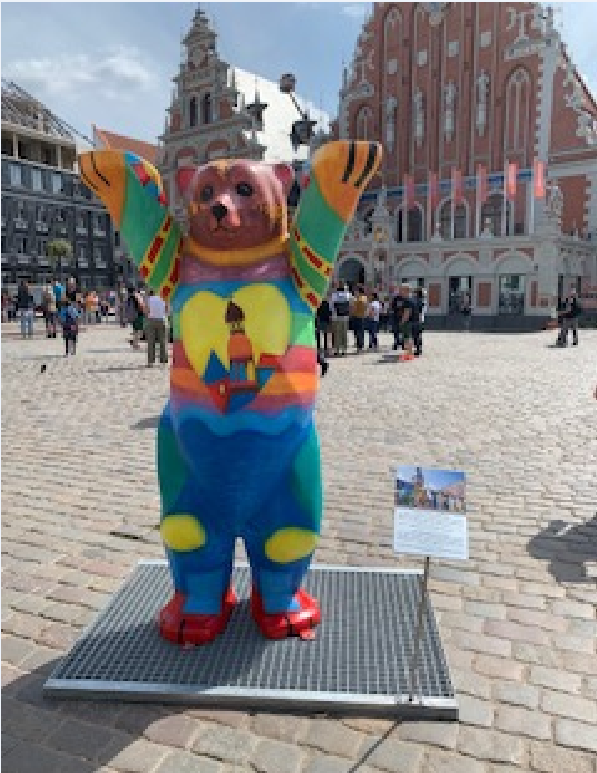 Luckily the weather was nice, when I reached the spot, I saw loads of tourists everywhere. I found an Indian restaurant "Raja" to fill my tummy. Unfortunately they didn't server Halal food, so I tried vegetarian. Food was good. After lunch, I was feeling sleepy, so came back to hotel. It was still only 2 pm. So I grabbed a chair in the lounge and started surfing internet. Mark Keating then asked me to join his team. I felt honored by his gesture. I spent the next hour with him and his team. It was the first time, I have ever spent so much time talking to him. I have met Mark Keating before but never had the opportunity to talk to him for so long. Thanks PerlCon for the opportunity.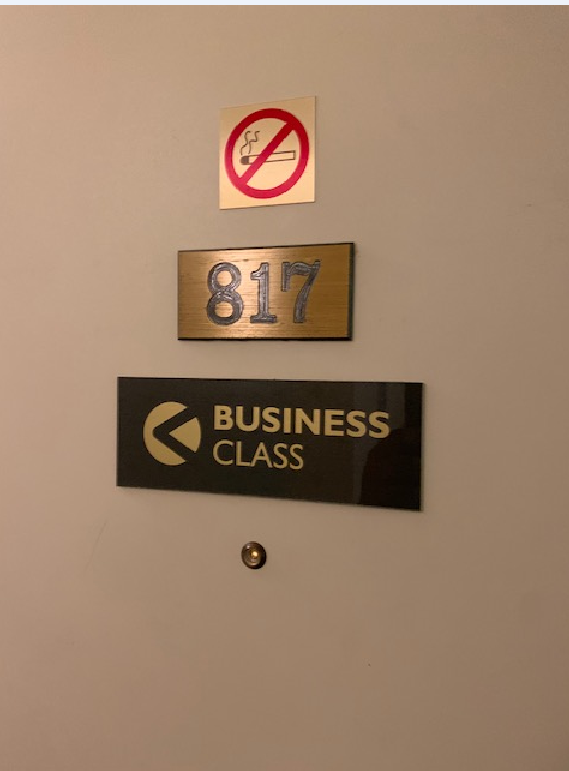 As soon as it was 3 pm, I checked-in straight away. To my surprise, I got complimentary upgrade to Business Class. So far, everything was going well for me. After taking
shower and I took quick nap. I woke up around 8 pm and realized there was Pre-Conference meeting till 9 pm. So I went down anyway. I met Mallory & Job, Mark Overmeer and few others. I had the pleasure to have rather long conversation with Mallory. It was my first meeting with her. I noticed she is technically very smart woman. It was pleasure meeting with her. It didn't appear that I was meeting her first time.
Around 9 pm, I went out to take some fresh air. There I met Theo and his team from Perceptyx. I have had pleasure talking to Theo in the past. I really enjoyed the company of
Theo. He is so fun to talk to.
Next day, in the morning, Day 1 of the event, I met Dave Cross. I was surprised to see new hair style. I have always seen him in his traditional hair style. I have had the pleasure of meeting him in the past as well. But this time, I was able to hold the conversation beyond hi/hello. For me, this was an achievement. We spoke at length.
It was time for SawyerX keynote talk "Perl 5: The past, the present, and one possible future", I have watched his talk before. So I knew the content to some extent but listening to SawyerX is never boring. I really enjoyed it.
After the keynote, I met JJ Merelo and he presented me one of his book "Learning to program with Perl6: First Steps". I requested him to sign it as well. He not only just signed the book but wrote a beautiful message.
"My white camel award to the most awesome Perl challenger"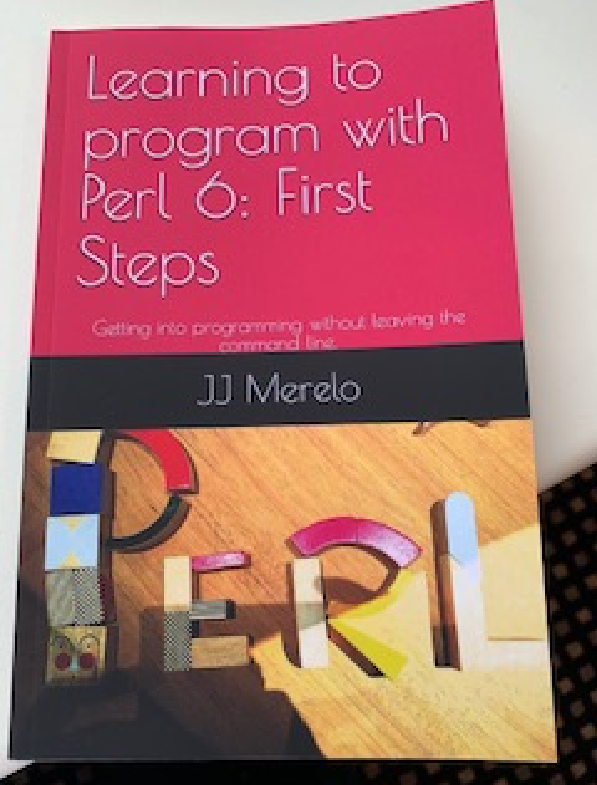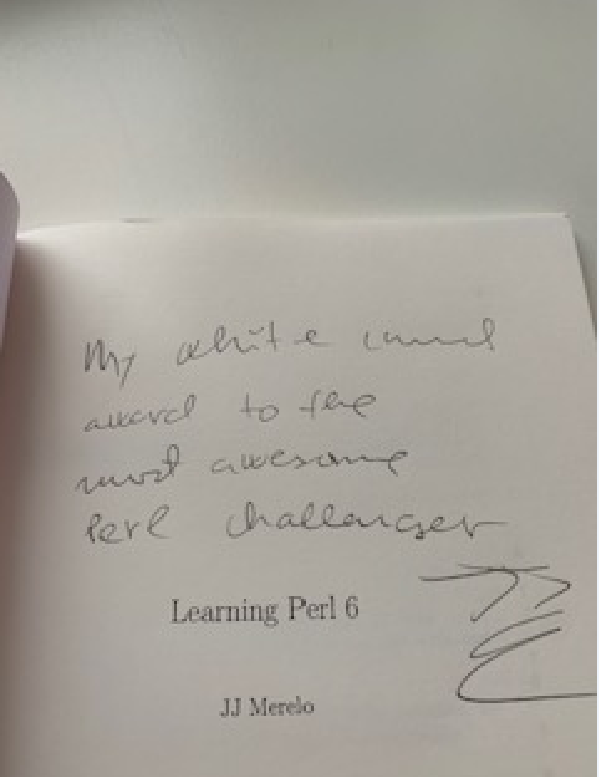 JJ Merelo even introduced me to his wife.
I couldn't have dreamt of better start of the conference. Post coffee break, I went to attend the talk "Deploying Perl Apps using Docker, Gitlab & Kubernetes" by Thomas Klausener. I have tried it before without any success. I met Thomas afterwards and thanked him for the great talk.
Immediately after Thomas talk, it was my turn to speak on "CPAN Contributors: Do's and Dont's". I was little nervous to see some big guns in the audience. But after the introductory note, I was OK. How did my first talk went? Well immediately after the talk, I checked my Twitter profile. I was pleasantly surprised to see some very encouraging tweets by well respected names in the audience.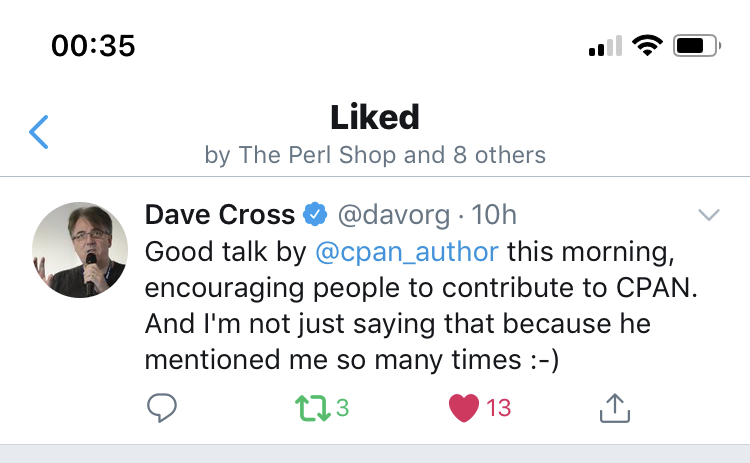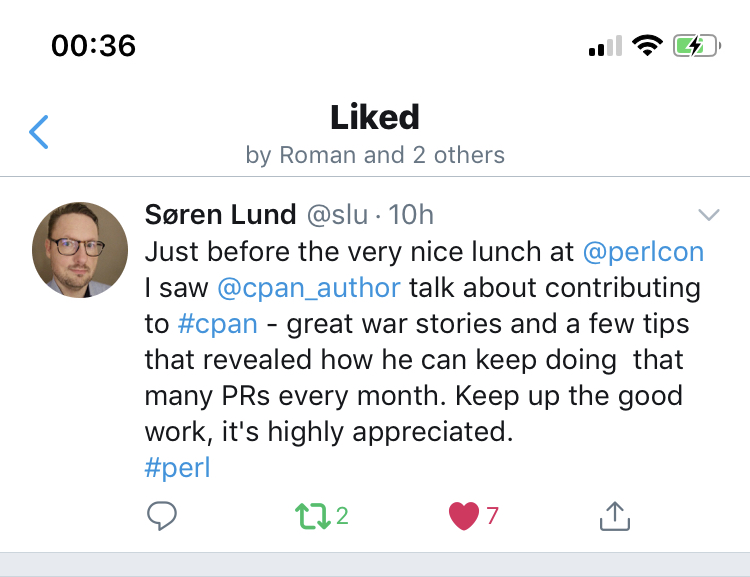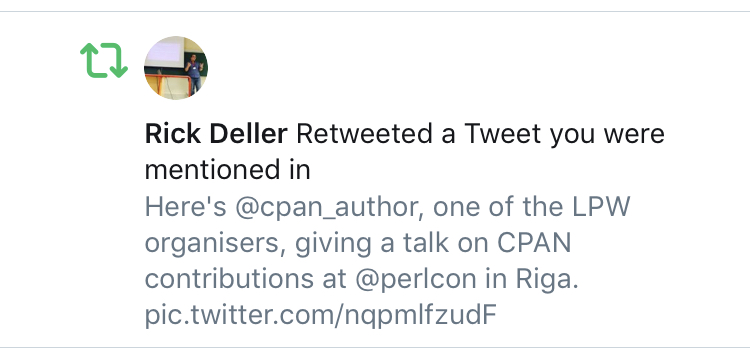 It was Lunch time now. During the lunch break, I met Harry, Ali and one more guy (original from Nepal) from one of the sponsor of the event Perceptyx. It was my first meeting with them but I was very comfortable to hold lengthy discussions with Harry. Harry came across very well informed guy. I enjoyed lunch with them.
Post lunch I went to attend the talk "Quick and Dirty GUI Applications using GUIDeFATE (revisited)" by Saif Ahmed. He has given the same talk earlier at London Perl Workshop but I always missed it for some reason. This time, I made sure to attend his talk. It was really nicely presented talk. Although some of the electronics related subject went above my head. At the end of the talk, he gave the audience the opportunity to win the Raspberry Pi Kit by sending him email. Without any further delay, I sent him email during the Question/Answer session itself. Guess what, on the last day, I had the Kit in my bag. Thank you Saif.
Next talk in list was "Recent PAUSE Changes" by Kenichi Ishigaki. I was pleased to know that lots of improvement work is on going. I have seen Kenichi Ishigaki, many times at the London Perl Workshop but never had the courage to say "hi" to him. This time, I wanted to break the ice. Once I saw Kenichi sitting with Kang-min Liu (GUGOD) and Shoichi Kaji (SKAJI). I have contributed to some of the distributions of GUGOD and SKAJI in the past. So it was icing on the cake to actually speak to them as well. I went to say "hello" to the gang and talked for a long time with all of them. Kenichi and SKAJI was really quiet but GUGOD was very frank. I really enjoyed the discussions. It made me feel very happy that I finally I spoke to them.
It was time for next talk "Testing Lies" by Curtis Poe. First time I saw Curtis when I attended the German Perl Workshop in 2017. He was the Keynote speaker. But then I couldn't gather the courage to say "hi" to him. This time, I had decided not to miss the opportunity. Once during the coffee break, I saw him sitting in the corner and working on his laptop. I don't know where did I got the courage, I went straight to him and said "I liked your talk". He told me to wait for a minute as he was in the middle of committing his changes. The wait was killing me, honestly speaking but I hold my breadth till the end. When he finished his commit, he started the conversation and we spoke for few minutes. It didn't matter what I spoke, what matter to me was that I spoke to him for the first time. That time, I was the happiest person on the planet.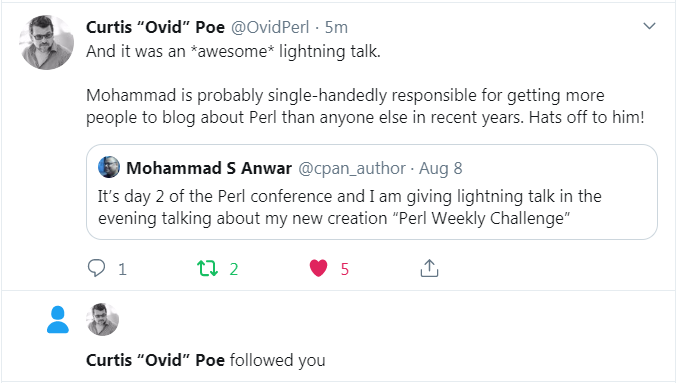 After Curtis talk, it was time for lightning talk, I enjoyed all the lightning talks, specially one by Mallory, who I met the other day.
Post lightning talk, Olli-Antti Kivilahti and I decided to go out for dinner together. While I was waiting for Olli-Antti Kivilahti, I saw Julien with Hauke Dämpfling, E. Choroba, Jeffrey Golf, Steffen Winkler, Lee Johnson and Paul Cochrane. We all decided to look for Indian restaurant for dinner. We went for rather a long walk and still couldn't find an Indian restaurant. We just went in what we found at the end. Although there was nothing in for vegetarian, so I decided to go for Vegetable soup. For me, talking to these greats was more important than the food. I was enjoying every minute I spend with them.
That was the end of day one of the event.
Second day started with the keynote talk "DeMythifying Perl 6" by Elizabeth Mattijsen. Post keynote talk, I stayed in the same to listen to Hauke Dämpfling talking about "WebPerl - Run Perl in the Browser". It was eye opener for me. I enjoyed his talk. After that I went to attend the talk "Human Determination: A critique of CAPTCHAs" by Job. It was the funniest talk I have ever attended in my life. I met him briefly during the pre-conference meet earlier. He is a cool speaker. I am a big fan of him now.
It was lunch time now, I was having lunch sitting alone. Then Jens Rehsack came and asked me join him at another table. How can I say no him. So I joined him at his table. To my surprise, I found JJ Merelo and one more guy at the table. We spoke for a while then Jens and JJ Merelo went to attend the talk. I stayed back with the other boy (don't remember his name). He was interested to know my journey to London. We took extended lunch break. He seemed to be very impressed with my story.

It was time for the next talk "RPC-Switch: JSON-RPC service-composition" by Wieger Opmeer. I stayed in the same room to attend the next talk "Exploring game programming patterns in Perl" by JJ Atria.
I had lightning talk planned now. So I went to grab my laptop from hotel room. I gave lightning talk about "Introduction to Perl Weekly Challenge". At the end of the talk
Julien reminded me that I missed one very important aspect of the Perl Weekly Challenge. I forgot to mention that we have had Python programmer participating in the challenge once.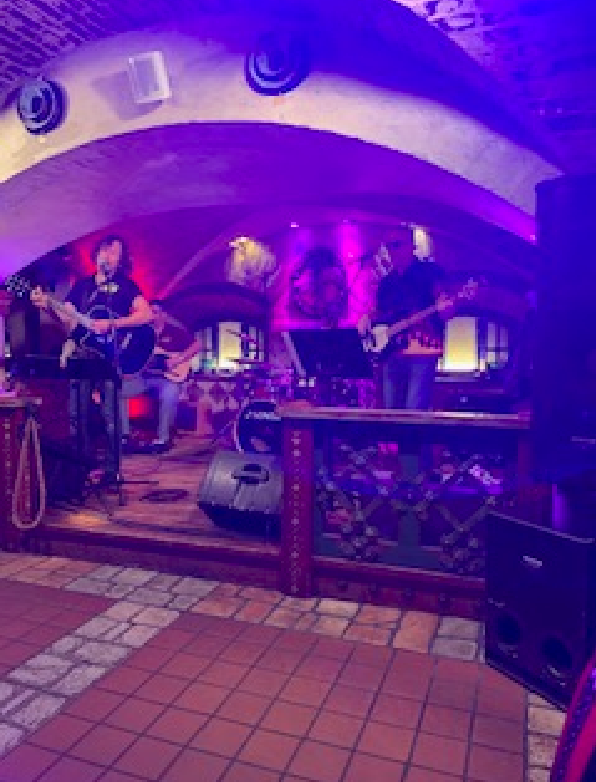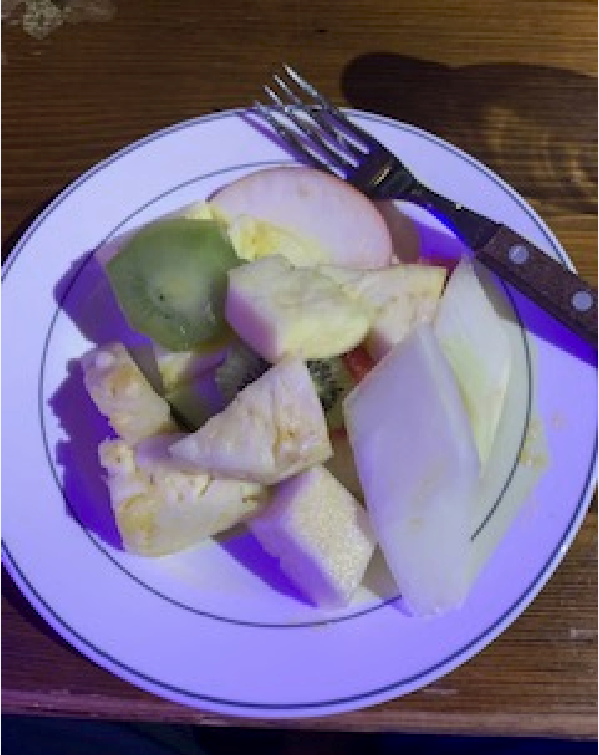 Now we were all ready for the Team Dinner organised the Andrew Shitov. We went to the restaurant by Bus. It was nice place but too loud. I quickly finished my dinner and went out to get fresh air. There I saw Andrew Shitov and Laurent Rosenfeld having fun discussion. I joined them as well. I never met Andrew before, but I felt so comfortable talking to him. Later, Hauke Dämpfling and Theo joined us. We continued talking for a long time. I enjoyed their company.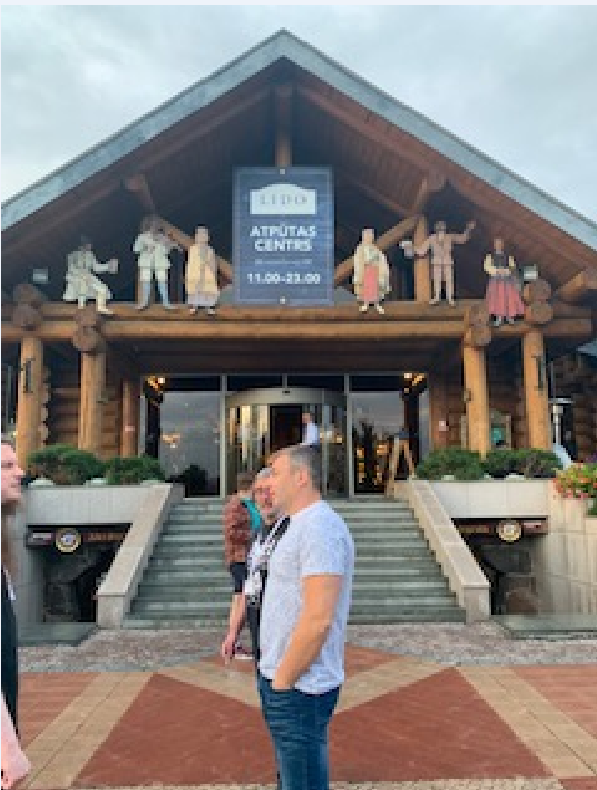 That was the end of day 2 of the event.
On the third day, I had my full length talk planned after the keynote talk by Jonathan Worthington. I took extended breakfast to relax before my talk. Then came the time to delivery my talk "Protect your Perl script from common security issues". The talk went OK. There were few questions raised which I promised to look into details later.
After my talk, I stayed in the same room for the talk "Overloading Perl OPs using XS" by Nicolas Rochelemagne. I must say, I didn't understand everything, but it was nice knowing few bits and pieces.
Time for lunch now, Julien and I together with his mentee had extended lunch. It was always pleasure talking to Julien and his mentee (forgot his name again). After the coffee
break, I went to attend the talk "Easy as Six" by Arne Sommer. I was pleasantly surprised that he mentioned quite a few times about
Perl Weekly Challenge in his talk. After his talk it was time for final lightning talk.
I had my return flight to London later in the evening, so I quickly decided to say "Good bye" to all my friends. I noticed Barbie came looking for me as he wanted to know the location of Indian restaurant "Raja", the place I went on day one. After quick map reading, he finally found the place. Would you believe what happened after that?
Barbie said that he liked my talk "Protect your Perl script from common security issues" and it reminded him of his very first talk he gave about 15 years ago. Similar topic from portability point of view rather than mine security. It was happy ending for me as I still talking to him. The longer I talk, the better I feel about myself. I have never had the opportunity to talk to him for so long. He promised to share his talk when he gets hold of it. One more thing, he mention that one of his friend had done something similar to my Perl Weekly Challenge. He also promised to share some notes from that when he gets his hand on it.
By now, I was already on the seventh sky. I was very happy. But it wasn't end yet. Julien came up to me and took me to MST as I told him once that I wanted to say "Hi" to MST but
never done it yet. Even during the 3 days event, I couldn't say more than "hi" to him. So Julien formally introduced me to MST. It was a special moment for me. I had quick and
short discussion with him as I had to catch my flight soon. In that short discussion, MST said something that I wasn't expecting. He mentioned that Perl Weekly Challenge reminded him the days of Iron Man. He said that he liked what I do. What more can I ask, thanks a million to Julien.