Idea: perl community homepage
One of my problems related to Perl is that I'm not aware of a lot of things going on in the perl world, and there isn't a single place I can go to try and keep up. I suspect I'm not the only one. This post outlines an idea for a "perl community home page", where you could go to "keep up". I've whipped up a prototype, which is just a static page with a mashup of various feeds and static data.
I think we need a single place which aggregates all sorts of information from around the Perl world, provides an index to the online perl world, and just as importantly that crowd-sources information from members of the Perl community. This would be useful not just for existing perl users, but for those just starting out, and people outside looking in. Last night I hacked up a prototype — a static page generated by a big hacky script: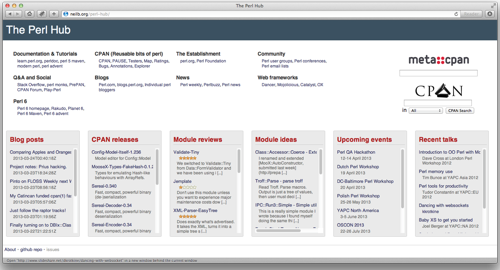 This would be a "front page for the perl community". It has feeds from a range of Perl sites, and data that would be provided by users: details of your perl blog, talks you've given, perl sites not currently listed.
This is kind of a mashup of perl.org, metacpan and perlmonks. As MetaCPAN is to CPAN, I think this could be to Perl: MetaPerl. It could even be the front page to MetaCPAN, and MetaCPAN already provides some of the information needed, but I don't think it fits within MetaCPAN's mission. Olaf? To be honest, I think perl.org is the most appropriate place for this.
It's an idea and an experimental prototype, so it's not on CPAN, it's on github :-)
The perl sites, blogs, events, and talks are all just JSON lists, if you want to add things that are missing.
At the moment I'm going with theperlhub.com for the name, or perhaps perlhub.org.