My hiring principles
Just a brief night post about people that I successfully hired recently. I'd like to publish a screenshot from our corporate Yammer pages, which--if you don't know--is a kind of Facebook for using within a company. My method is much more trustful than the endorsement block recently launched on LinkedIn :-)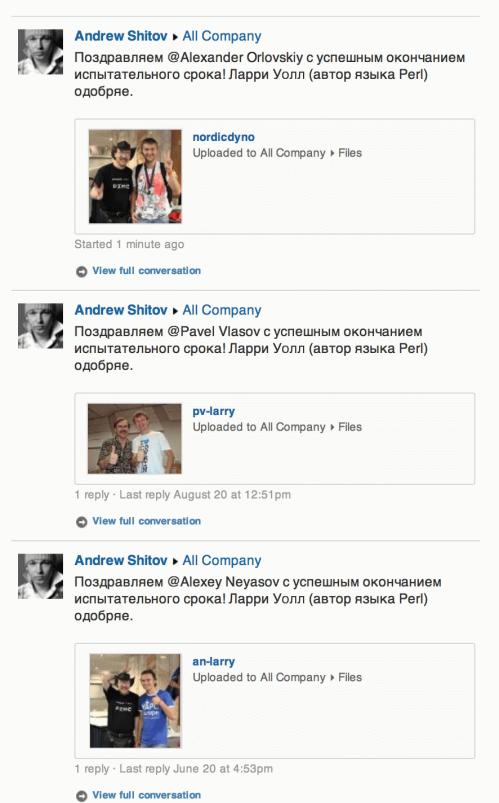 There are three messages with similar text (only names alter) saying: Congratulations to N with the end of his approbation period! Larry Wall (the author of the Perl programming language) endorses. We work in the company where Python is the main stream, thus I need to explain who that man in a hat is :-)
It appeared so that each of the recent new hires that I brought to the company has a picture with Larry. A clear indicator that they are interested in Perl, know the people behind it and follow the trends in the language.
Here they are: Alexey, Pavel and Alexander.

I've got a very simple checklist for the candidates I would like to work with. The list was built in the times of working as a technical director of Art. Lebedev studio:
Being able to explain ideas in clear language;
Being able to find a solution of a task that you never encountered before;
Having fire in the eyes when you talk about the things you work on.
The list is so simple and never fails. Note that there is no mentioning of professional skills in the list. They are very important but not a priority.
Now I can add a new option to my checklist: a picture with Larry.