A Glimpse Of YAPC::Asia Tokyo 2011
tl;dr> YAPC::Asia Tokyo 2011 was a great success. Check out our photos, our videos, and check out the talk slides.
So as I previously announced, YAPC::Asia Tokyo 2011 is now over. Apparently we had more attendees in this single YAPC than all of North American Perl events combined for year 2011:
22:44 r: I just read that 672 attendees number on blogs.perl.
22:46 p: yeah that's easily 30% larger than all of the NA events combined.
22:49 r: yapc 244 + PPW 78 + frozen perl 46 + perl oasis 34 = 402 NA for 2011
Yippeee!
The event's execution was incredibly smooth... Of course, we had Kushii-san again as the mastermind behind the event, with yours truly handling the financial aspects and the tech/system related stuff. We also had 4-5 people who were familiar with how YAPC::Asia operates (or, even if it was their first YAPC, we had people who were familiar with organizing this kind of event), and they were able to make the proper judgement during the course of the event, without having to consult myself or Kushii-san.
Day 0
Day #0 was the RejectConf, but for us organizers it's always the time to put all the swag together and prep it to be distributed. In previous years this operation took about 2 hours, but I think we beat our record this time, finishing everything in about 1 hour. I'm sure this is partially due to the fact that we had (also a record breaking) 42 volunteer staff. Lots of hands to do the grunt work. I can't thank them all enough.
Oh BTW, we used Facebook groups to coordinate between the staff this year. This kind of report worries me, but I got to give Facebook credit for creating an easy-to-use collaboration system.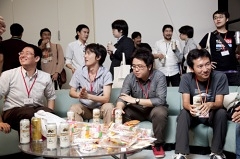 Once we packed our bags full of swag, we headed over to the Centennial Hall, where RejectConf took place. Traditionally, we serve beer and condiments at the hallway while RejectConf is taking place, and so was the case this year. Of course, we had many interesting talks, but the socializing aspect is what really makes YAPC... YAPC.
(You can also see in the pictures how we do our checkin process - we let people bring their QR code ticket on their phones/tablets and/or printed paper, which we scan and process)
Day 1
Day 1! Until previous years, we had to setup the screen and projector on the Main Hall during the first morning, but this year we were able to rent the Main Hall on Day 0, so we were able to set stuff up then. Also, while we didn't know, Titech University apparently decided to renew their facility and installed a new screen. This saved our setup/teardown cost by a lot.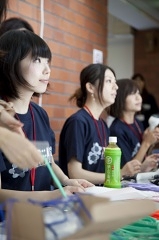 Day 1 is always the busiest day, as most attendees checkin during the morning. Our staff was extremely well-coordinated, and we didn't have too many problems. When there were problems, I just executed SQL directly on the system we had deployed on dotCloud and looked for the proper ticket code.
(To tell you the truth, this year I made the blunder of forgetting to include one extra column in the production database, which took me about 30 minutes to fix. oh well..)
Kushii-san greeted everybody, and then Jesse Vincent took the stage. YAPC::Asia Tokyo 2011 then began in earnest.
Jesse gave his "Perl 5.16 and Beyond" talk. You might have seen it already, but I'm pretty sure this is the first video available on the web. If you haven't seen it, you MUST!
We had about 20+ talks during Day 1. Talk subjects included Perl features, Perl for Ruby programmers, Smartphone development, Asynchronous Programming, Table Game for Perl Programmers (the purpose of the game is to cooperatively finish a product by the deadline, using CPAN modules -- you should check it out), Testing, and Administering Large Scale Codebase
One thing I'd like to note specifically from Day 1. We invited Marc Lehmann as one our main guests. I know many of you have a thing or two with him, but he is the reason we can do extremely stylish async programming in Perl, and whatever you may think of him, he /is/ GOOD. I think we at least owe to understand why he writes things his way. So here's his talk video:
We also had loads of fun at the Lightning Talks. I ended up punishing the audience by allowing 18 Lightning talks to go :). Check out the videos!
The Social
At the end of Day 1, we the social / dinner. Sponsored by Mixi, DeNA, and JPA. Food and beer for everybody, and FREE!
Day 2
Day 2... As a staff I was already exhausted. My back ached, I was sleepy. But the show must go on. The day started with "Professor" Oku giving his ever useful pieces of wisdom for Unix + Perl programming.
During Day 1 and Day 2, we had O'Reilly selling their books for 10% discount. We also had Makamaka-san (of JSON::PP fame) selling his yearly mini-book on all of the useful and not-so-useful Acme:: modules.
JPA was also selling these cool, non-nerd looking T-Shirts. My wife was wearing the light-blue T-shirt at YAPC::NA 2011, but you guys probably didn't even notice that that was a Perl shirt. It says "Whipaptitude" and "Manipulexity", so it's truly a Perl shirt, but it's just cool looking :)
This year we setup an experimental "Sweets Area", where we served free coffee and snacks. Luckily there was an Excelsior (a starbucks-type coffee venue in Japan ) close by, so they brought fresh coffee every hour. We used this space for a general hangout, but we had some mini-events, too. There were three talks in the Sweets Area, as well as a group interview session for Web+DB magazine
Talks from Day 2 were as interesting and diverse as ever. We had the Email Epic from rjbs, Mathematics confusion with Monads for Perl, a high-school kid explaining why and how he got into Perl, a suit-wearing(!) guy talking about using Perl from COBOL (in a government system, too!), etc, etc
And then it was Lightning Talks Day 2! We had a guy bragging about his wife (see the video laster), an automated Minesweeper solver which can solve a 9x9 map in 1 second, all the fun talks
And finally, Hideo Kimura (a.k.a. hidek)-san's talk. We chose to have a Japanese guy give the main, last talk, because we kept having foreign guests take this role in many of the previous years -- having famous guests take the stand is of course good, but we wanted to encourage people from Japan, too. We also asked hidek-san, who is a Perl-monger turned a manager of Perl-mongers, to shed us some light on management. I think it's a subject matter that affects many of us, but we don't get to hear much about it, so I think this choice was a good one
Best Talk Awards / Closing
Since last year, we've been setting up a vote for Best Talk Awards, to encourage our speakers to produce high-quality material (not that we needed to prod them with anything like this to start with... our speakers are /good/ :). This year we were awarding winners with ergonomic chairs, mac mini, ipad, and a lucky voter got a Kindle.
This year's winner was KAYAC Inc's Fujiwara-san, who taught us the many lessons learned and techniques used to migrate his applications from an old datacenter to a new one. Unfortunately his chair won't arrive until November, but I'm sure he will provide us with a blog entry when it arrives.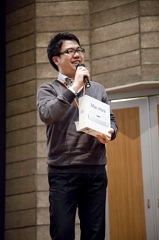 Second place was Takesako-san with his Win32::GuiTest talk. Apparently this Mac mini we gave him is his FIRST Mac! Hope he gets to play around with it
Third place was Tokumaru-san, who presented the various ways to protect passwords in your system. Unfortunately he wasn't around at the end of the conference, so I shipped the iPad for him a couple of days ago
And so that was it. We had a record-breaking YAPC, the time it took for the cleanup afterwards was also record breaking, and our YAPC is now over. Will we have one next year? Well, who knows. But I think I trust the community that *something* is going to happen.
Thanks for all those who came, and see you at next YAPC, wherever it may be
And last, but not least: Thanks for all of the volunteer staff. We wouldn't be able to pull it off without you guys. THANK YOU!