Annual Report - 2020

Lets wipe out the memory of 2020
Am I bitter about 2020?
No, not at all. I like to find happiness in every little things in life. It is an art that I am still learning. I am writing this as a part of my monthly routine sharing last month activities. However this is special as it also has overall annual report of the year 2020.
I am embarassed looking back what I had planned at the start of the year.
Do I have any plan for 2021?
No way, I am not going to repeat my mistake. For a change, I want to see how I deal with my life without any plan.
I am a religious person, at least I like to believe I am. In the past, when ever I feel low, I seek guidance from ALLAH s.w.t. Believe it or not, I have been very lucky every time. It brings me closer to ALLAH s.w.t. The hardship of 2020 did the same to me. Working from home helped a lot, I feel blessed to have very understanding manager and colleagues.
The highlights of 2020 is the growth of The Weekly Challenge. I had incredible support and encouragement from each and every member of Team PWC. I would like to take this opportunity to thank, Pete Sergeant of Perl Careers, for the generosity and sponsoring the prize money. I am happy to announce that Pete agreed to continue in the year 2021 as well.
I am blessed to have the guidance and support by many big names of the Perl Community. First name is, Neil Bowers, I have even had the honour to work with him. He always encouraged me to push my boundaries. He is the one who encouraged me to give talk at London Perl Workshop. Before that I had zero experience in presenting talks. Now after so many years, I have given talks at various Perl Conference across Europe. There is one more person who shaped my growth and he is Gabor Szabo. Funny, I have never met him personally. I still remember my first interaction with him when he asked me if I am interested in giving interview. That interview changed me completely. I remember one incident, when Gabor offered to be my partner-in-crime while contributing to Dancer2 project. It was great experience working together as remote pair-programming. Final nail in the coffin was when I became co-editor of Perl Weekly newsletter. I really gave him hard time first few weeks and but then with his help I understood the nitty-gritty of being a co-editor. Today, I am the co-editor with the most editions after him. It is a big deal for me. At the start of Dec 2020, Gabor, offered me to collaborate in one of his project. What a shame, I haven't completed the draft. I hope to get it done soon, sorry Gabor.
I would like to mention another name who helped me in my journey and he is brian d foy. I came to know him when I published my first module Test::Excel. I had email interaction with him, as he is one of the PAUSE admin. Like Gabor, I haven't met brian d foy as well but I have always followed his work and contributions. I would like to thank him for giving away his pet project of doing monthly interview series for Perl.com. It was an honour that he felt that I am capable to handle it. With his help and David Farrell, the editor of Perl.com, I have done 3 interviews with Gabor Szabo, Curtis 'Ovid' Poe and Damain Conway. Because of some personal reason, there have been some delay in the follow up interviews. Having said that I promise to be back with another interview soon. In fact I am in conversation with two big names. Things are moving but slowly.
As you all know, my spare time mostly devoted to my current love, The Weekly Challenge. It all started to bring Perl to the discussion table. While doing so, we brought Raku along as well. The Raku had positive influence and changed the project name, originally, it was called "Perl Weekly Challenge". Thanks to the elite members of Team PWC, we didn't limit ourself to just Perl and Raku. As of today, we have contributions in 50 different languages. Python top the list and is the most favourite language among the team. I would like to take this opportunity to thank all the reviewers, current and past. Kian-Meng Ang (Perl), Laurent Rosenfeld (Perl/Raku), Ryan Thompson (Perl/Raku), Colin Crain (Perl), Andrew Shitov (Raku).
I finally got the courage to take part in the weekly challenge. I must confess it wasn't easy as I already running short of time. Doing both tasks in Perl and Raku was time consuming. Raku being new to me took most time. Then on top of that I started blogging about my solutions. As I always do, I added additional work, live video of weekly solutions of Perl and Raku.
You would think, I would stop there?
Nope, I started contributing in Swift, another language that I adopted recently. You can imagine my work load at this point. I was doing this every week. Then came a point when I had to reduce the work load as it was affecting me. I stopped doing live video. Then I stopped doing weekly blog. Few weeks later, I stopped participating completely.
Sad Ending?
I am positive that in the new year 2021, I would be back but this time it is going to be slow and steady.
I would like to talk about another casualty of year 2020. Hacktoberfest and 24PullRequest have been very close to me ever since I participated. For years, I enjoyed every little contributions I was able to do so. Last year, I barely managed to complete the Hacktoberfest challenge. I knew 24PullRequest challenge is going to be difficult as I was busy doing The Weekly Challenge Advent Calendar. I promise to take part in the annual event with full energy in 2021.
Enough of sad story, I would like to mention project Pull Request Club, run by Kivanc Yazan. I have been associated with the project from the beginning. It has now completed 2 years in Dec 2020. Congratulations Kivanc Yazan. I am happy to say that I have never missed a single assignment ever. So in the last 2 years of my association, I have submitted 24 Pull Requests. Of those, 13 Pull Requests have been accepted and merged. So the success rate is more than 50%.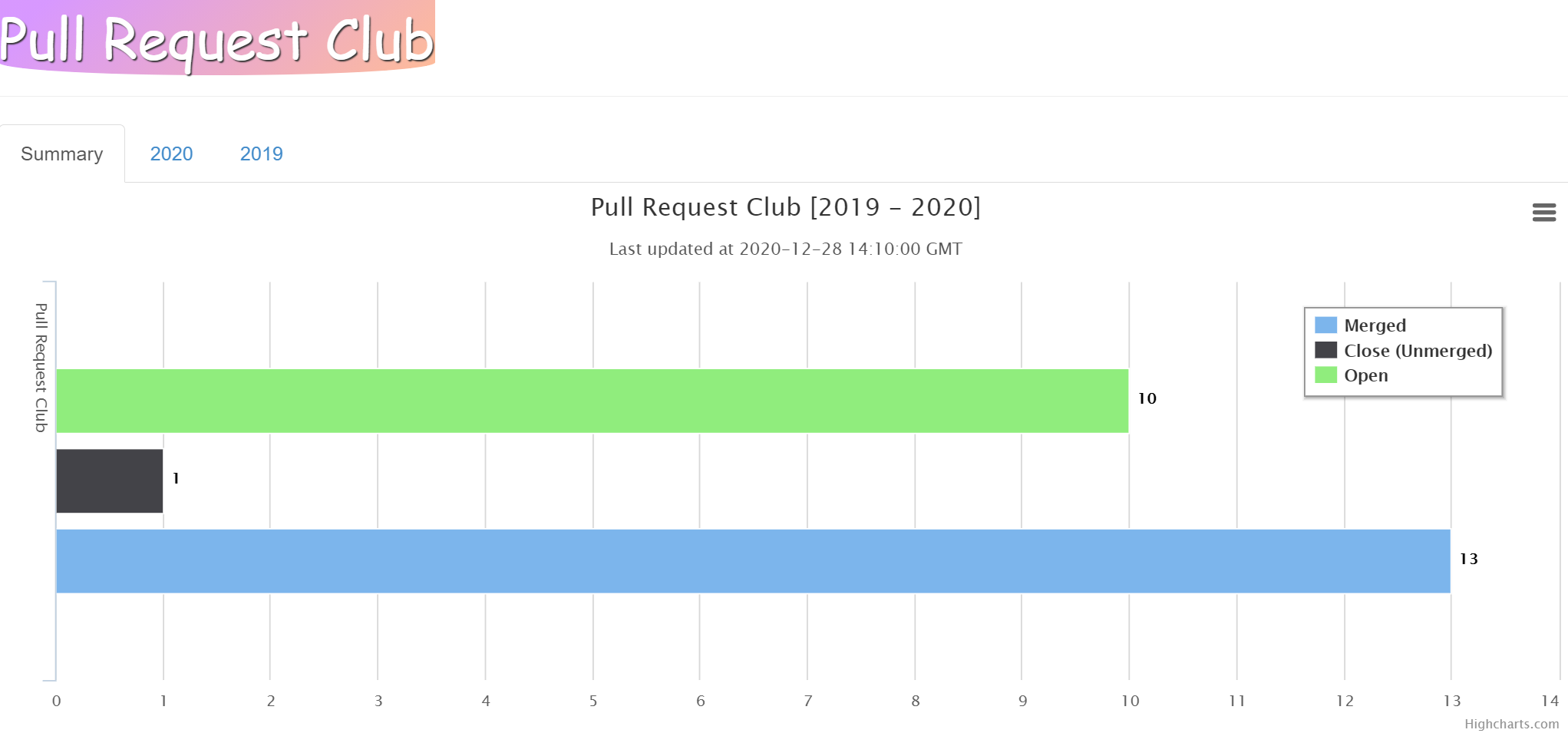 Contributing to CPAN modules is one of my favourite project. It started with the "Pull Reqest Challenge" ran by Neil Bowers. When Neil decided to stop the project in Dec 2015, I was very sad. It was working as catalyst for me. As I am always running short of time, it affected the time I used to spend on submitting PR every month. I have managed to submit one PR every day on average every month for many months. I would like to mention one such special month, December 2018, when I submitted 173 Pull Requests in just one month.
Can you guess, how many PR I submitted in the entire year 2020?
106 is the number, I am not proud of.
Lets change the subject slightly to make it look better, I have submitted 2349 Pull Requests to CPAN modules till date. Of those, 1703 Pull Requests have been accepted and merged. The success rate is 72%. Not a bad attempt. While doing so, I made many friends. I have had many encouraging response, which is priceless.
Let's take a quick look through last month main activities.
---
Pull Request
4 Pull Requests submitted in the month of December.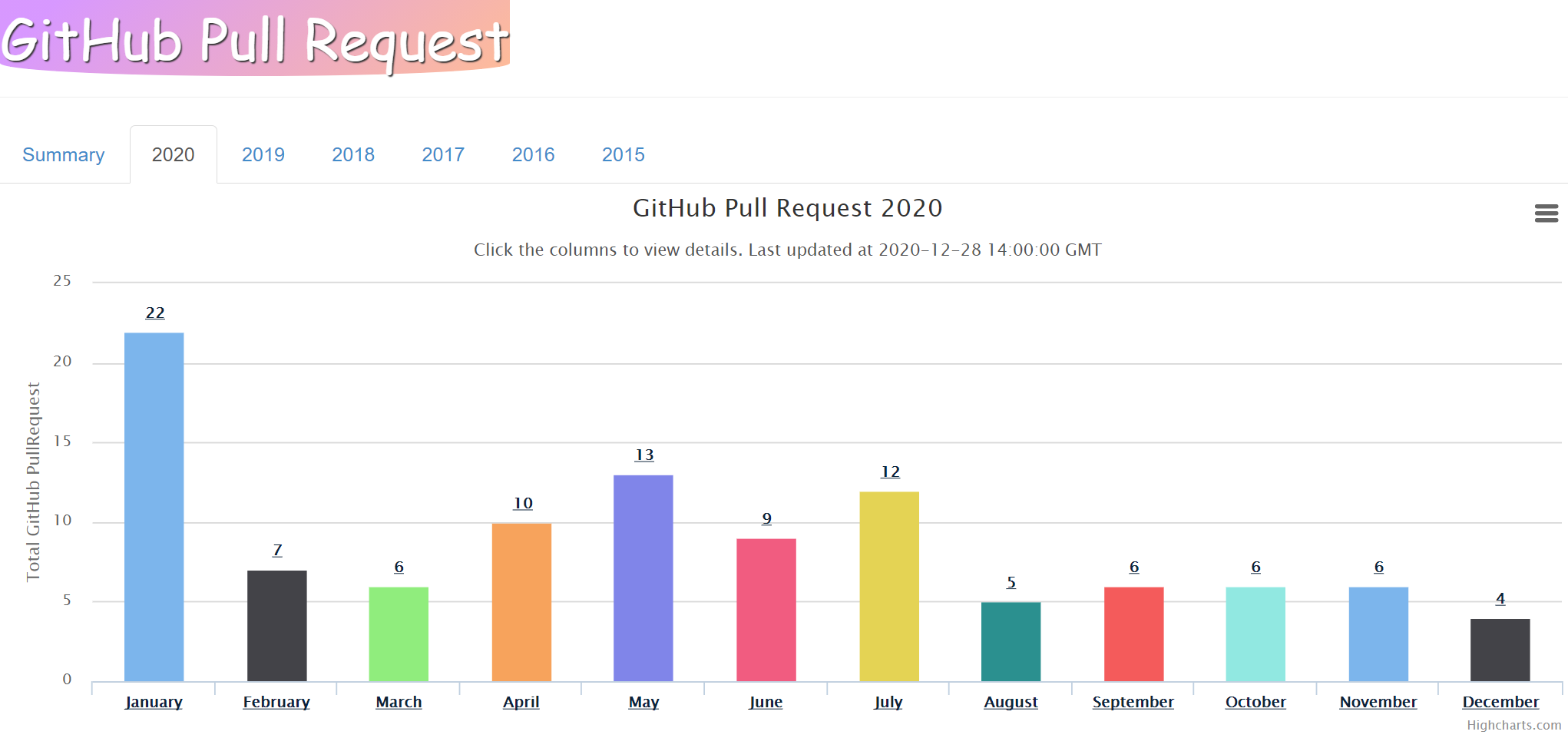 2349 Pull Requests altogether.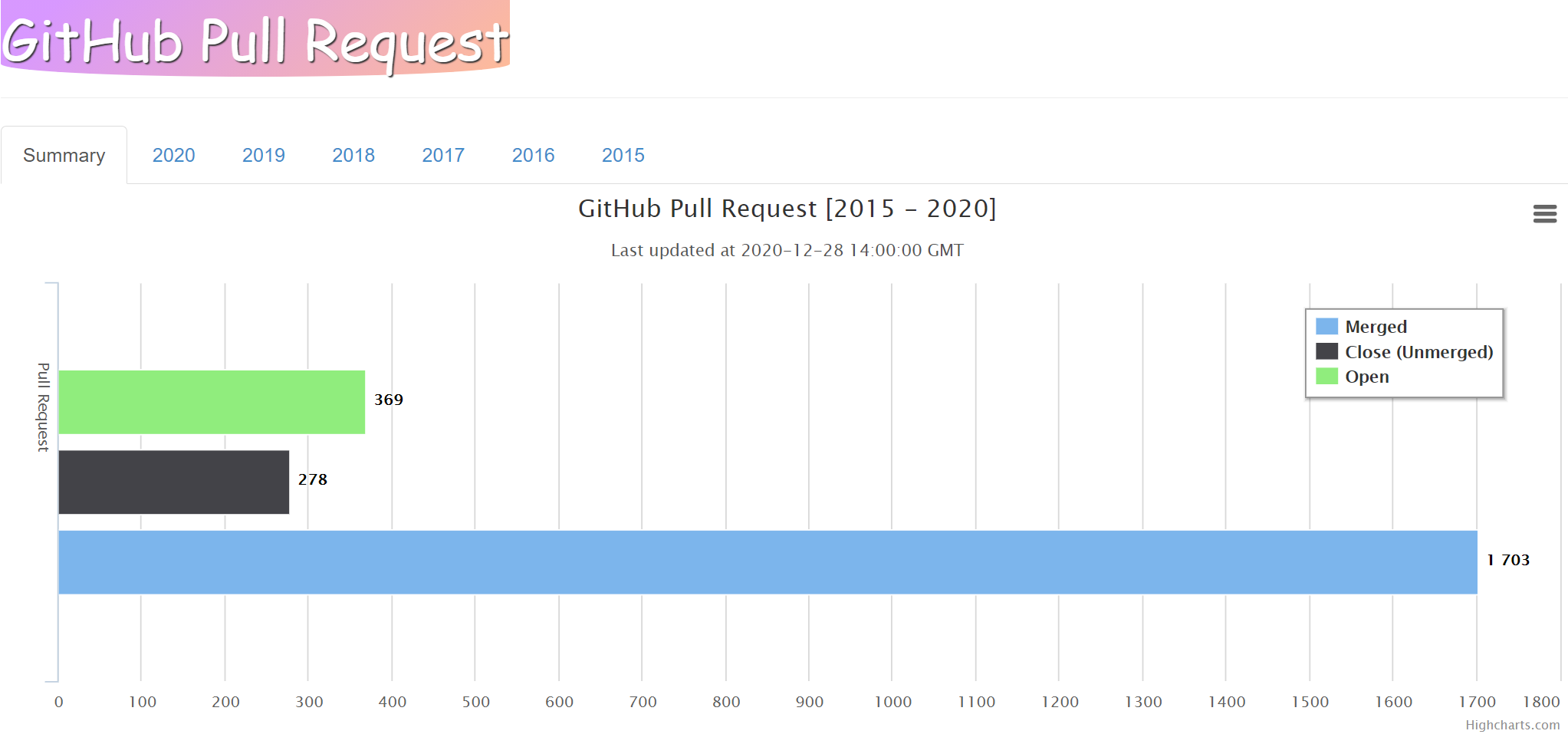 ---
Git Commits
861 commits recorded in the month of December.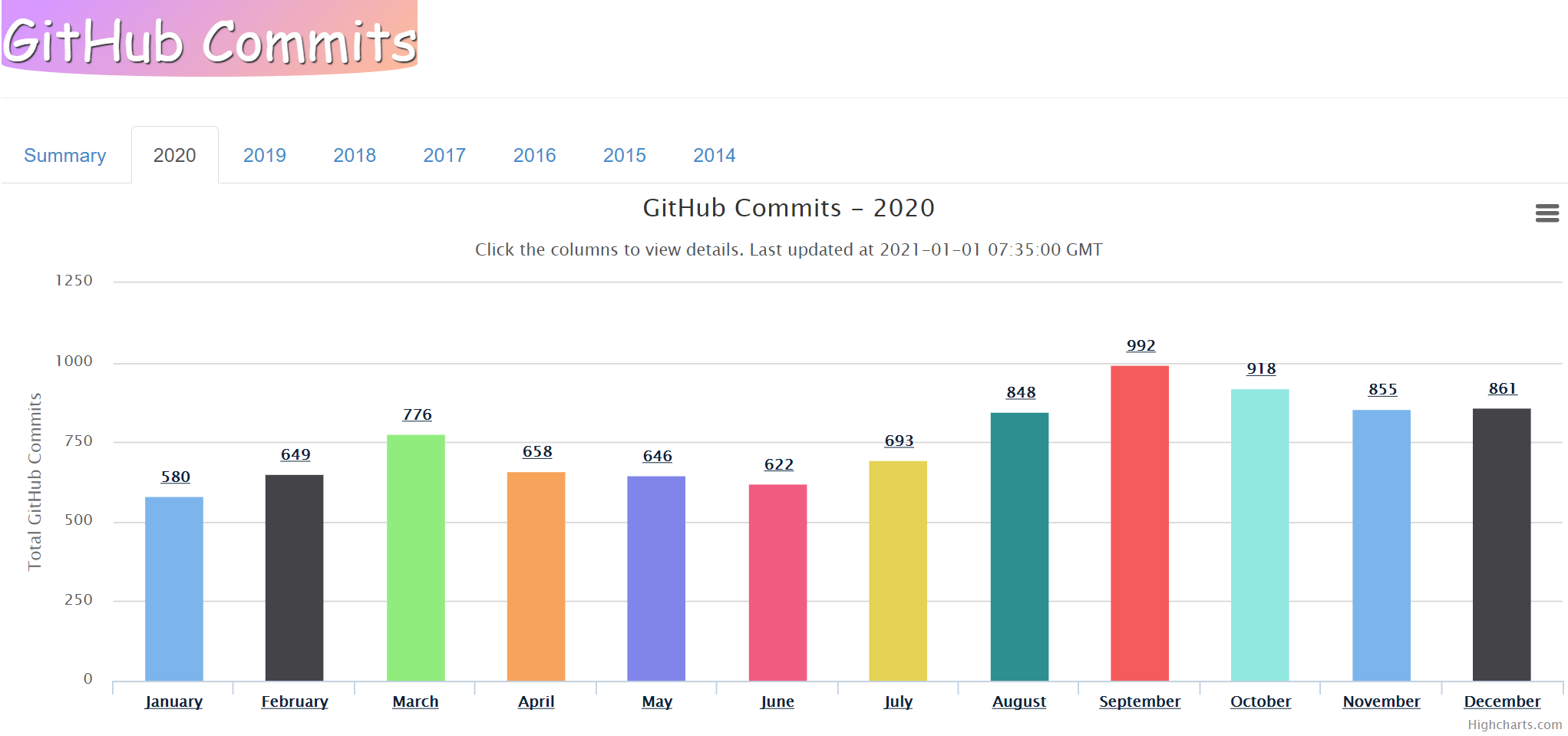 Overall 9098 commits recorded in the year 2020.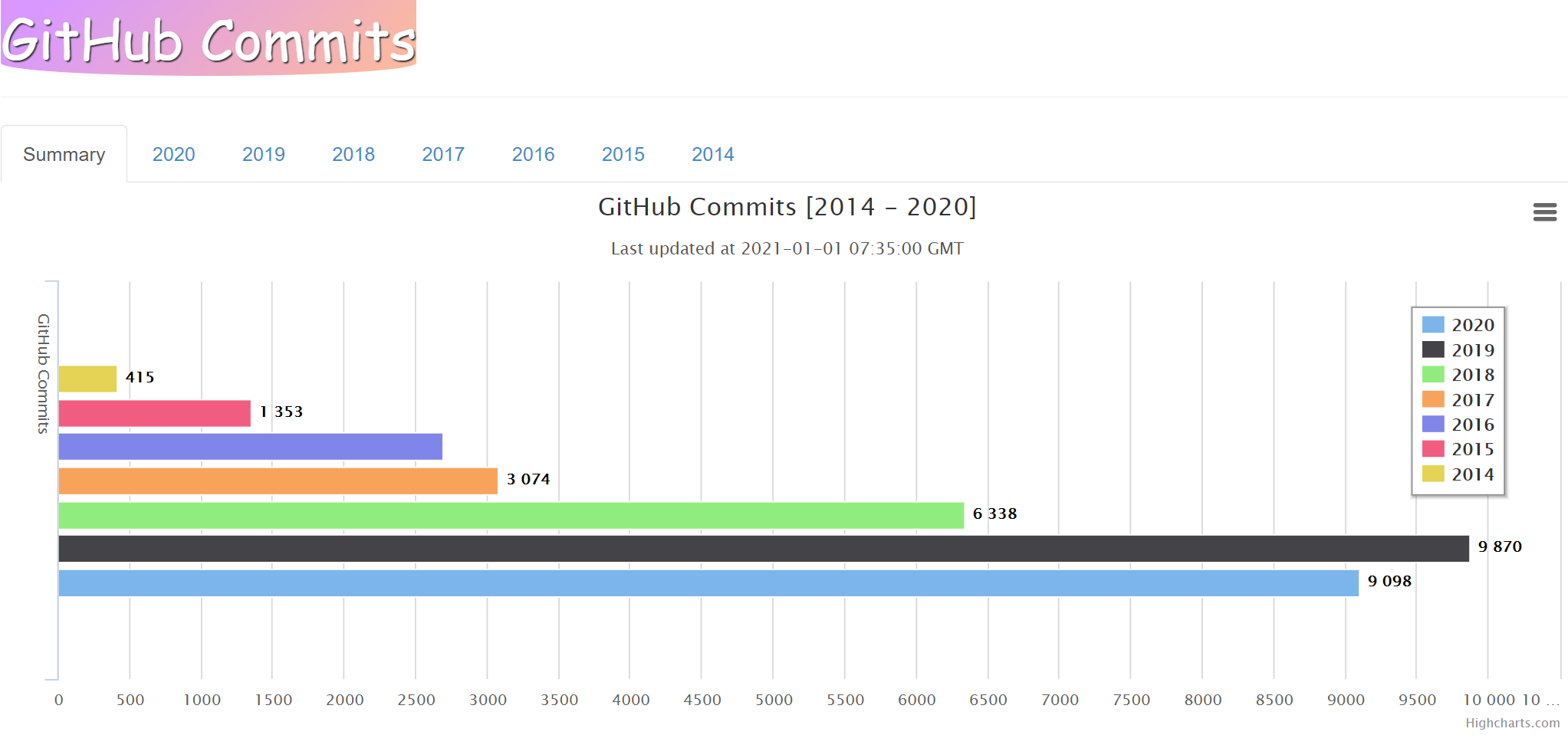 ---
The Weekly Challenge
Following weekly challenges proposed in the month of December:
And RECAPS are listed as below:
---
YouTube Channel
There are plenty of vides available on my YouTube Channel. If you like the video then please do subscribe to my channel so that you don't miss the weekly fun live coding videos.
No new video created last month, sorry :-(
---
Meet The Champion
Last month, we declared Simon Green as the Champion of The Weekly Challenge.
If you are interested in past champions interview then you can find it all here.
---
Pull Request Club
Last month, I received Nexmo::SMS by Renee Baecker. I submitted one Pull Request and within minutes it was merged.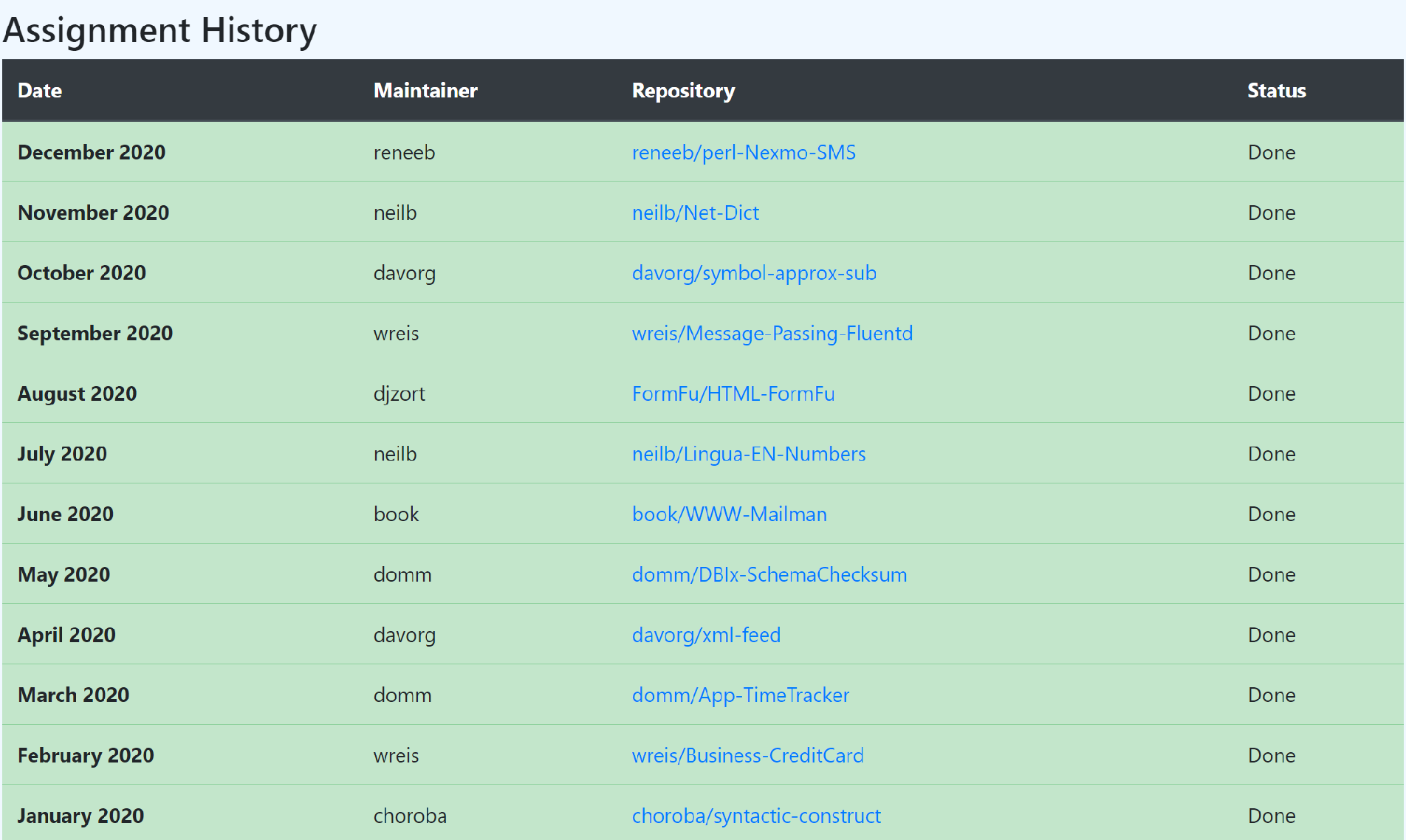 ---
Perl Blog
Last month, I blogged about the following topics.
---
Perl Weekly Newsletter
Last month, I edited two editions of The Perl Weekly Newsletter i.e. Issue #490 and Issue #492.
---
Adopt CPAN Module
None in the last month.