Monthly Report - March

Celebration time ...
The month of March is very special to me. It was in this month 2 years ago, I started my dream project The Weekly Challenge (a.k.a. Perl Weekly Challenge).
For Team PWC, it was back to back celebrations. We celebrated 100th week challenge in February first followed by completion of 2 years in March. In fact for the second year anniversary, I had planned something bigger but unfortunately it didn't work out for some reason. Having said that, for me the biggest achievement is that we now have a platform where everyone is welcome. It doesn't matter whether you like Perl or Raku or for that matter any other programming language. And the best part of it, the same person who happens to be an expert in Perl, goes on and do it 20+ different languages as well. Then there is this guy who is very famous for his Raku skill, suddenly decided to share solutions in Perl as well. How cool it is? This is something you wouldn't have imagine 2 years ago.
Let me share my own story, few years ago at the London Perl Workshop event, I was gifted a book on Raku for my contributions to CPAN. For the next one year, I didn't get chance to read even a single page. Then came the weekly challenge where I got the opportunity to see the work of many Raku experts. I was inspired by each one of them and decided to get my hand dirty too. As of today, I contributed 73 Perl solutions and 67 Raku solutions. Not a bad stats for a first timer.
Generally Perl and Raku are the two most popular languages the weekly challenge rely on but that doesn't stop members trying different languages every week. As of today, we have received solutions in 60+ different languages other than Perl and Raku. Any guess who tops the list? Well, it is none other than Python. I have recently started learning Python. Soon I would be contributing in Python too. Since the tag line of the weekly challenge is "You don't have to be an expert", as soon as I feel little comfortable I am going to jump straight away. There is no harm, since nobody is going to judge me here and one day I can be as good as I am in Perl today.
It is no longer secret any more, most of my spare time is devoted to the weekly challenge management. It is a tough job and at times, I feel really tired. In the recent weeks, I purposely stayed away for few days without doing any work on the weekly challenge. In the end, I felt bad for not doing anything. I then clear the entire backlog in one sitting. I play with my emotions at times and it is fun. When I am not doing anything serious, I spend time looking at the various charts. It tells me so many interesting stories every time I look at it. For example, if you look at the Leaders board, there is a story behind every names.
Do you think the weekly challenge is the only thing that keeps me busy all the time?
The short answer is No. I also take part in the monthly event "Pull Request Club". Submitting Pull Request was my hobby before the weekly challenge took over and left no time for anything else. Thanks to the monthly nature of the event, I have successfully managed it till date since the beginning without missing a single month. And when I receive the response like below, do you think I am going to stop any time sooner?

There is another surprise celebration that I am desperate to share with you all but I can't go public unless all the paper work done. I hope to get it done by end of next week. Unfortunately you all have to wait for the next monthly report that is when I will share the surprise with you all.
Let's take a quick look through last month main activities.
---
Pull Request
3 Pull Requests submitted in the month of March 2021.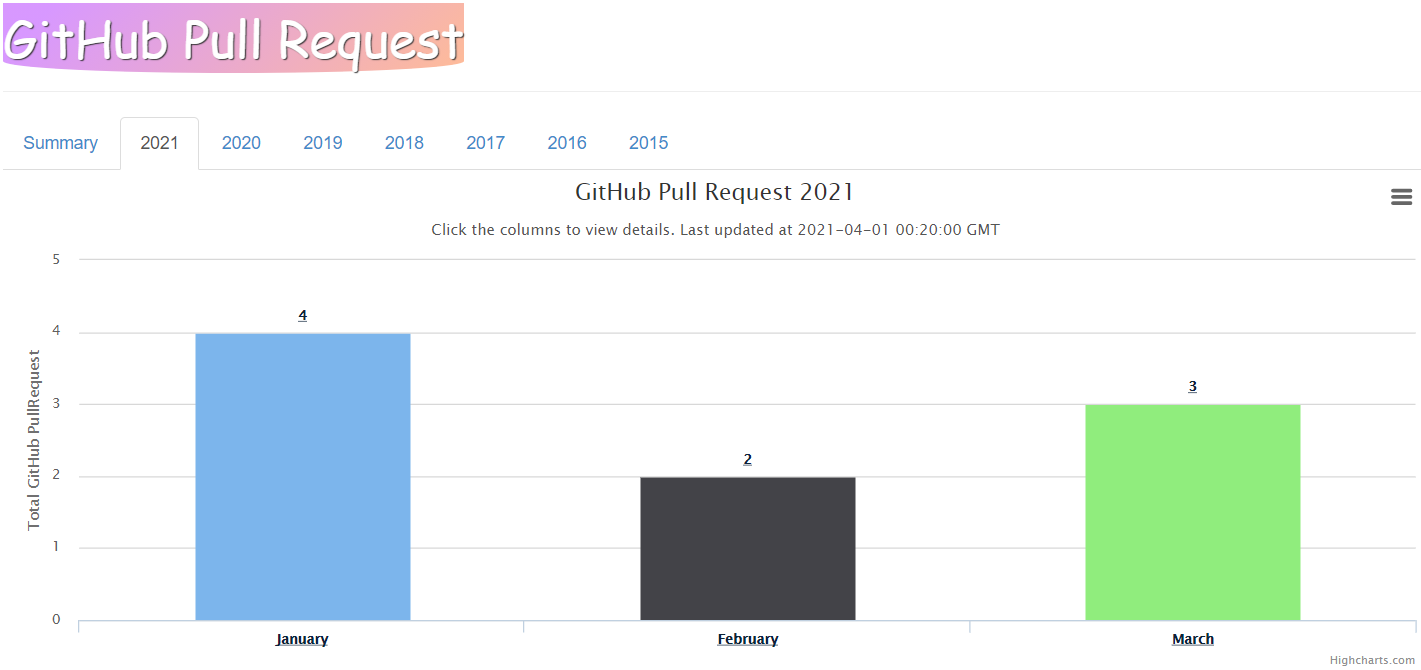 2354 Pull Requests altogether.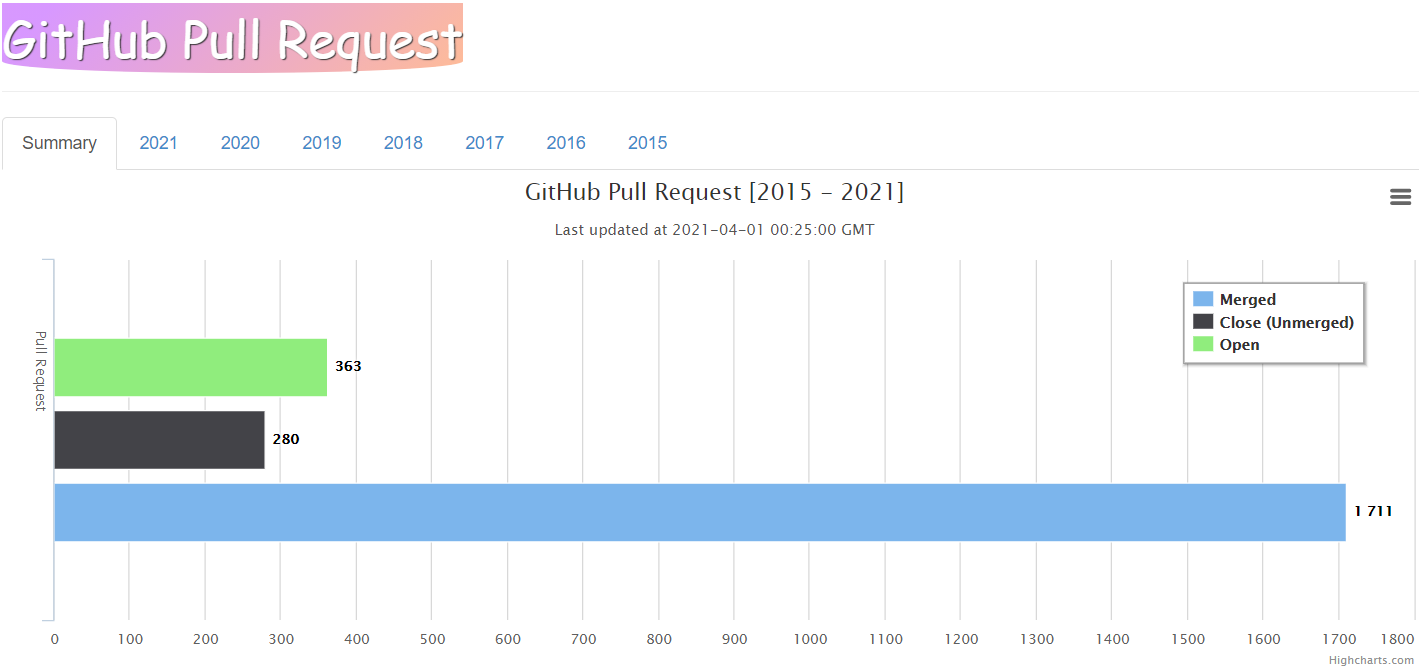 ---
Git Commits
672 commits recorded in the month of March 2021.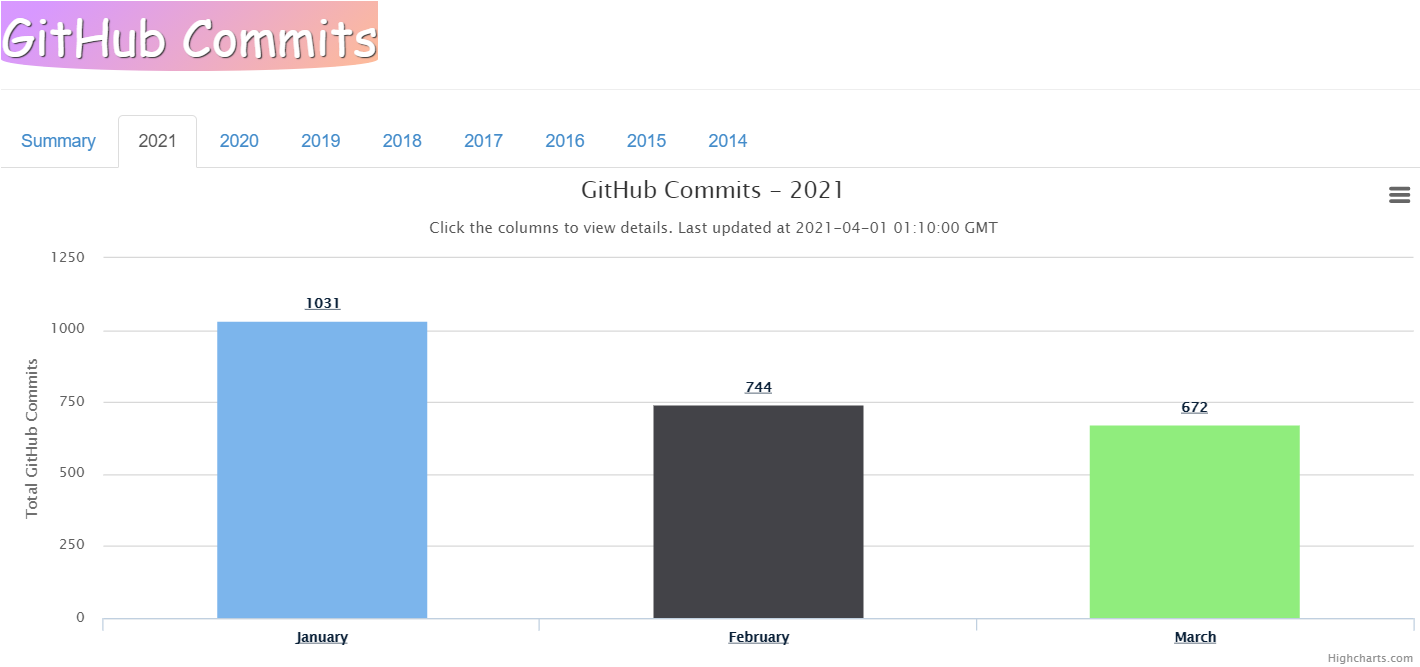 Overall 2447 commits recorded in the year 2021.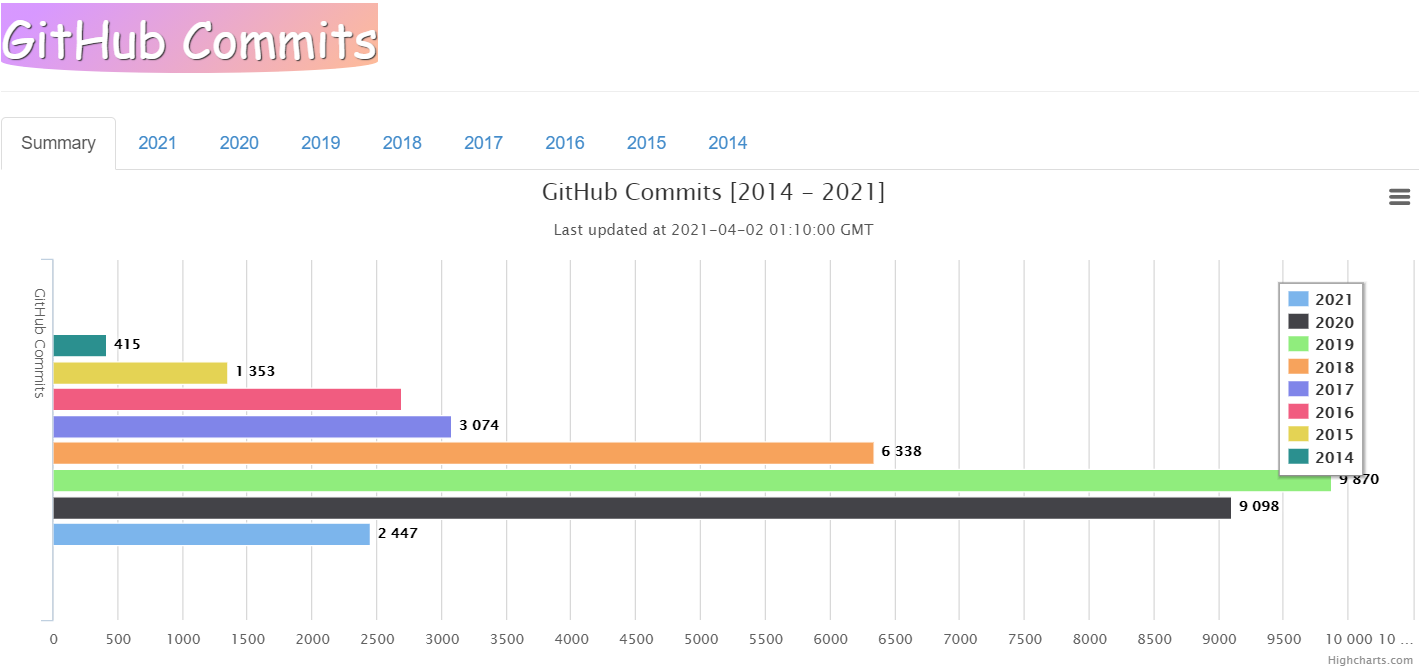 ---
The Weekly Challenge
Following weekly challenges proposed in the month of February 2021:
And RECAPS are listed as below:
---
YouTube Channel
There are plenty of videos available on my YouTube Channel. If you like the video then please do subscribe to my channel so that you don't miss the weekly fun live coding videos.
No new video created last month, although I was supposed to do one to mark the completion of second year of the weekly challenge. I will do it in the coming weeks though.
---
Meet The Champion
Last month, we declared James Smith as the Champion of The Weekly Challenge.
If you are interested in past champions interview then you can find it all here.
---
Pull Request Club
Last month, I received OData::QueryParams::DBIC by Renee Baecker. I submitted one Pull Request and it has been already accepted and merged by Renee Baecker.

Overall participation to Pull Request Club
---
Perl Blog
Last month, I blogged about the following topics.
---
Perl Weekly Newsletter
Last month, I edited two editions of the Perl Weekly Newsletter i.e. Issue #502 and Issue #504.
---
Patreon
At the end of last month, March 2021, the following people / organisation supported me in the past or continued supporting me even today. I am humbled by their generosity.
Do you want to sponsor my work?
Please follow the Patreon page.
Thank You.