Monthly Report - April

Thanks for your support and encouragement ...
I had many ups and downs in the month of April. In all these, I have recieved plenty of supporting voices.
First, we had the start of Ramadan. I feel fortunate to be able to fast in this holy month. However I had to break my fast for two days because I suffered by Vertigo. Luckily I recovered very fast, thanks to ALLAH s.w.t.
As you all know, I have started taking part in the weekly challenge after rather a long break. Although I am only sharing solutions in Perl for the time being. Soon, I would start doing in Raku and Swift. Having said, I started live coding regularly in recent weeks. Please find below the links to all videos that I created last month. I use OBS Studio to create live videos. Someone recently complained about the audio quality. So I bought the Blue Microphone Snowball Ice. I noticed the audio quality was way better. Feeling brave, I started making changes to the configuration to make it even more crisper. While doing so, I broke the standard settings. I panicked. I asked for help on Twitter and within no times, I had plenty of help. After fierce fighting for a week, I got it working in the end.
There is another big news that I would like to share with you all. After nearly 9 years with NTT, I decided to move on and accepted an offer from Oleeo. I joined as Senior Perl Developer on 4th May 2021. I was fortunate to receive the grand welcome by everyone. I was plesantly surprised that so many people knew me already. I met familiar faces as well e.g. Andrew Solomon (Geekuni) and James Raspass (Code Golf). Thanks to Julien Fiegehenn, my induction went very smooth.
Any new projects in the pipeline?
Well, there are two, one in Perl and another in Python. I will share the details in the next monthly report as I am still preparing the ground.
That's it for now. Stay safe and healthy.
Let's take a quick look through last month main activities.
---
Pull Request
4 Pull Requests submitted in the month of April 2021.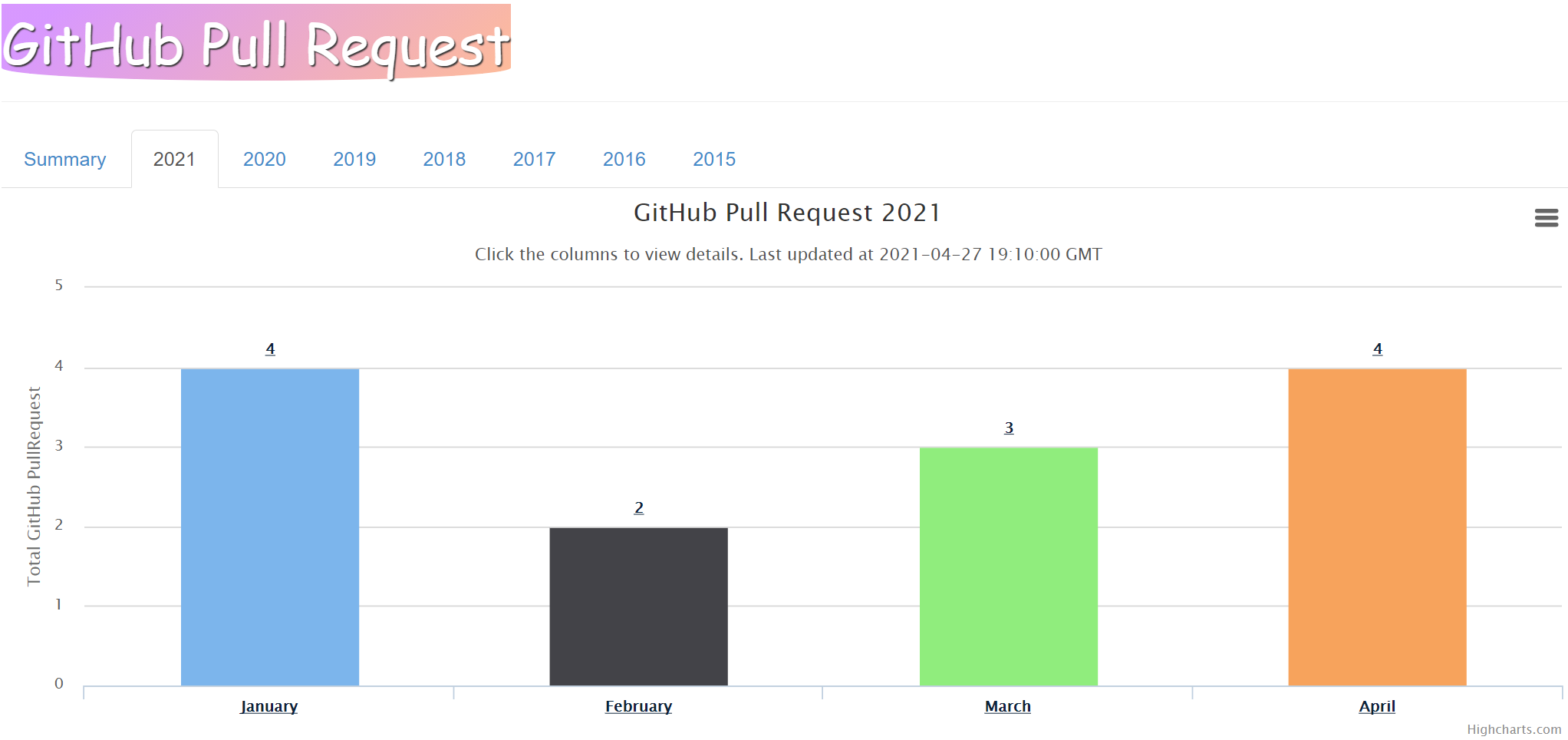 2356 Pull Requests altogether.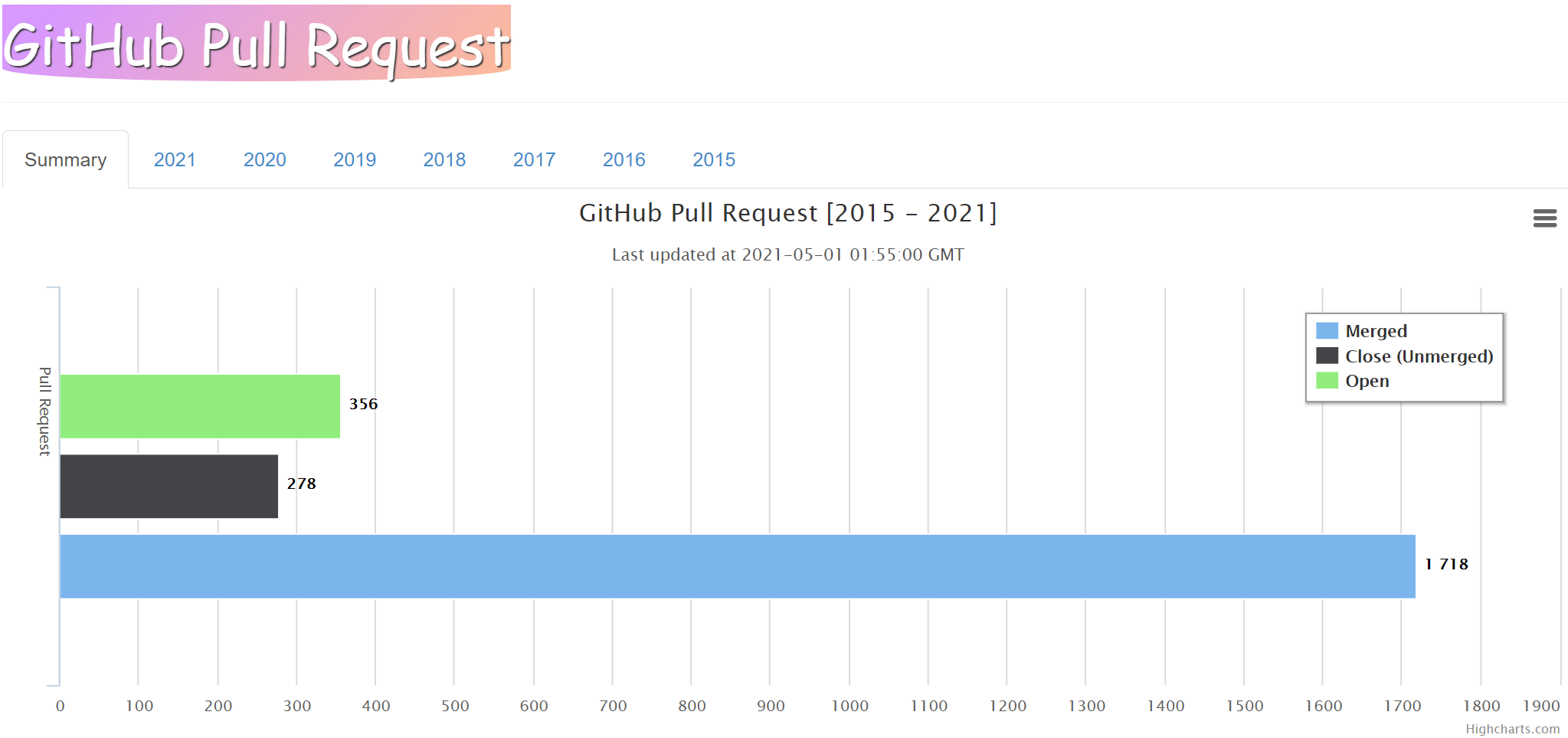 ---
Git Commits
684 commits recorded in the month of April 2021.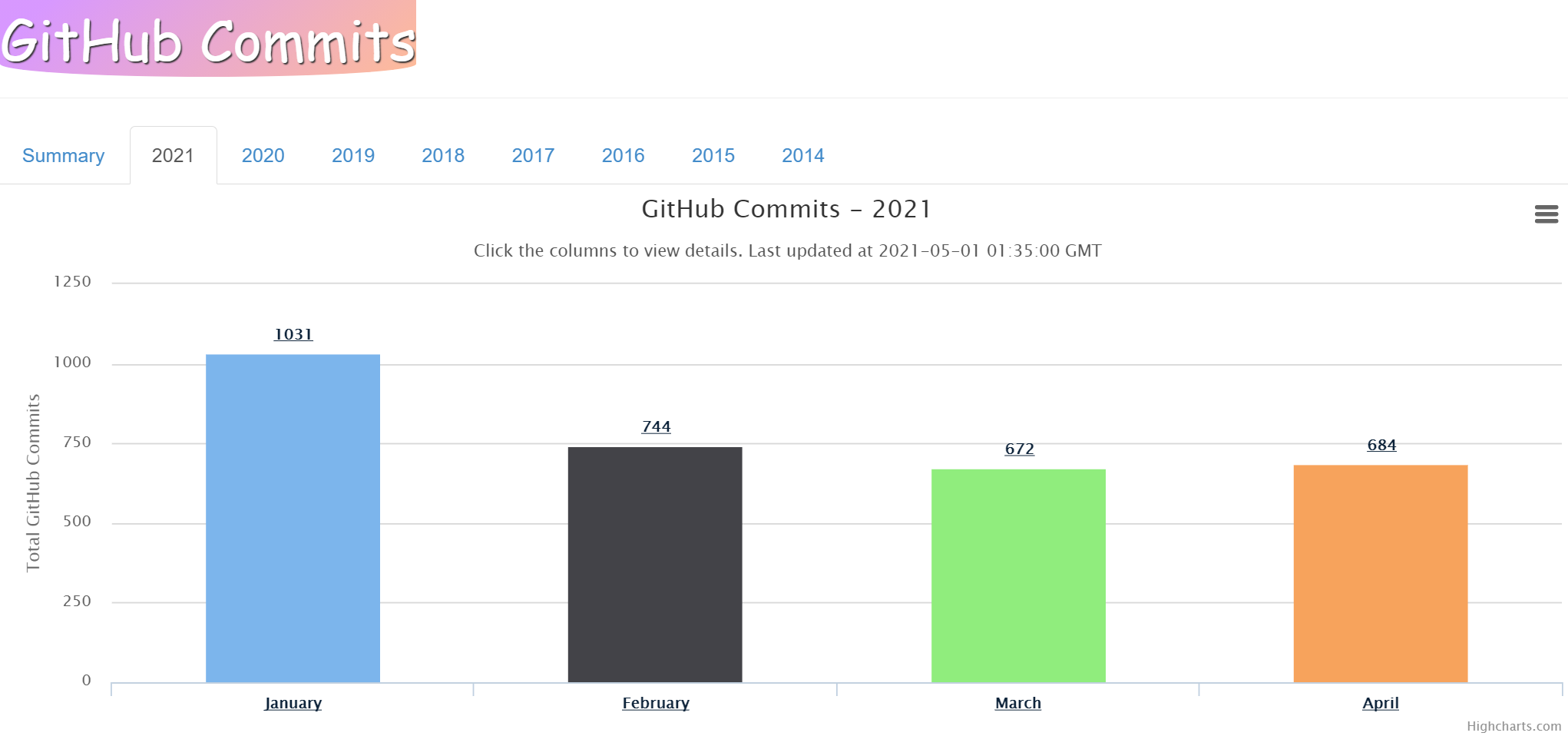 Overall 3131 commits recorded in the year 2021.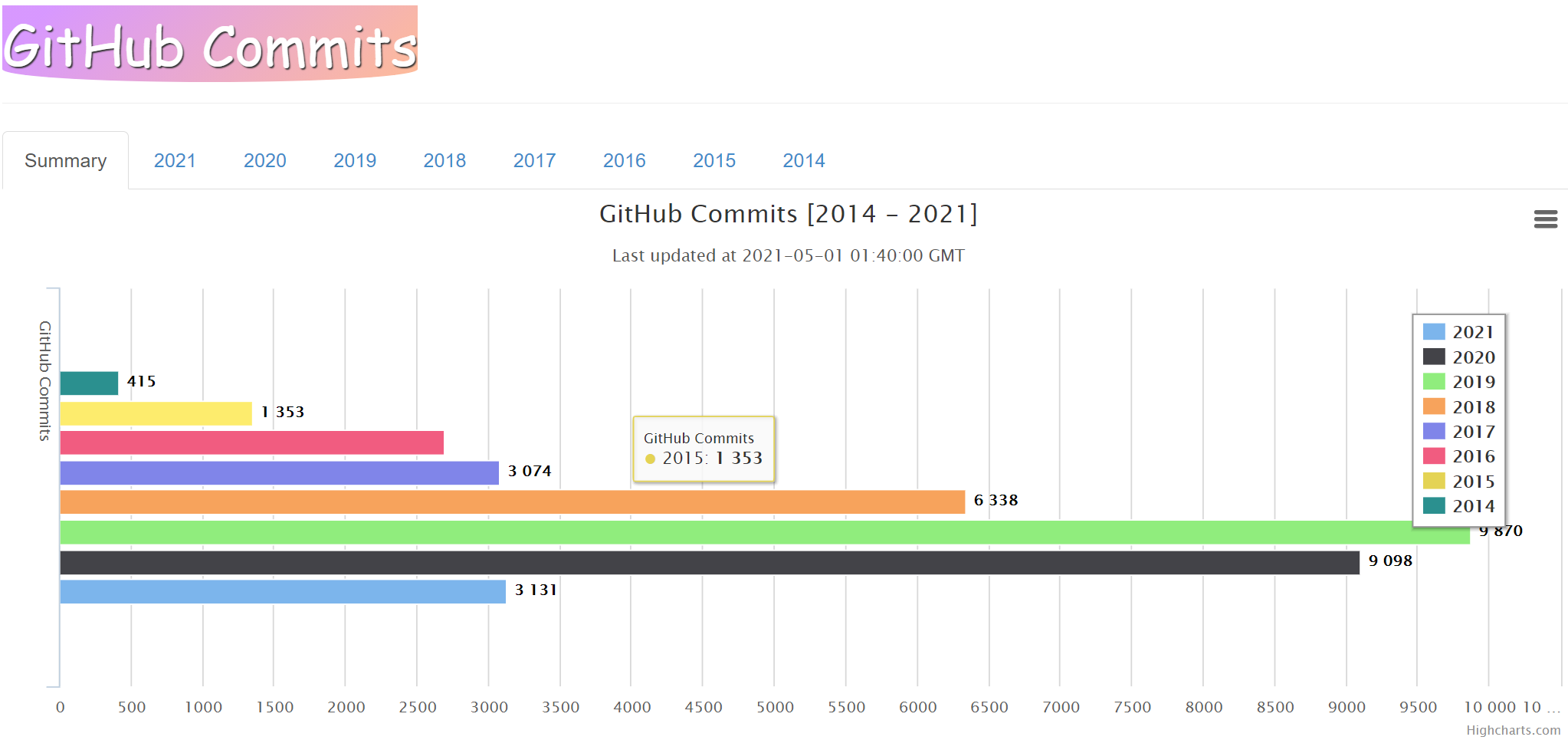 ---
The Weekly Challenge
Following weekly challenges proposed in the month of April 2021:
And RECAPS are listed as below:
---
YouTube Channel
April has been the best month as far as video contributions are concerned. For the first time, I was able to create 9 videos working on various tasks of the weekly challenges.
Perl Weekly Challenge - 100 (Task #1: Fun Time)
Perl Weekly Challenge - 106 (Task #1: Maximum Gap)
Perl Weekly Challenge - 107 (Task #1: Self-descriptive Numbers)
Perl Weekly Challenge - 108 (Task #1: Locate Memory)
Perl Weekly Challenge - 108 (Task #2: Bell Numbers)
Perl Weekly Challenge - 109 (Task #1: Chowla Numbers)
Perl Weekly Challenge - 109 (Task #2: Four Squares Puzzle)
Perl Weekly Challenge - 110 (Task #1: Valid Phone Numbers)
Perl Weekly Challenge - 110 (Task #2: Trahspose File)
There are plenty of videos available on my YouTube Channel. If you like the video then please do subscribe to my channel so that you don't miss the weekly fun live coding videos.
---
Meet The Champion
Last month, we declared Tyler Wardhaugh as the Champion of The Weekly Challenge.
If you are interested in past champions interview then you can find it all here.
---
Pull Request Club
Last month, I received Bread::Runner by Thomas Klausner. I submitted one Pull Request and it has been already accepted and merged by Thomas Klausner.

Overall participation to Pull Request Club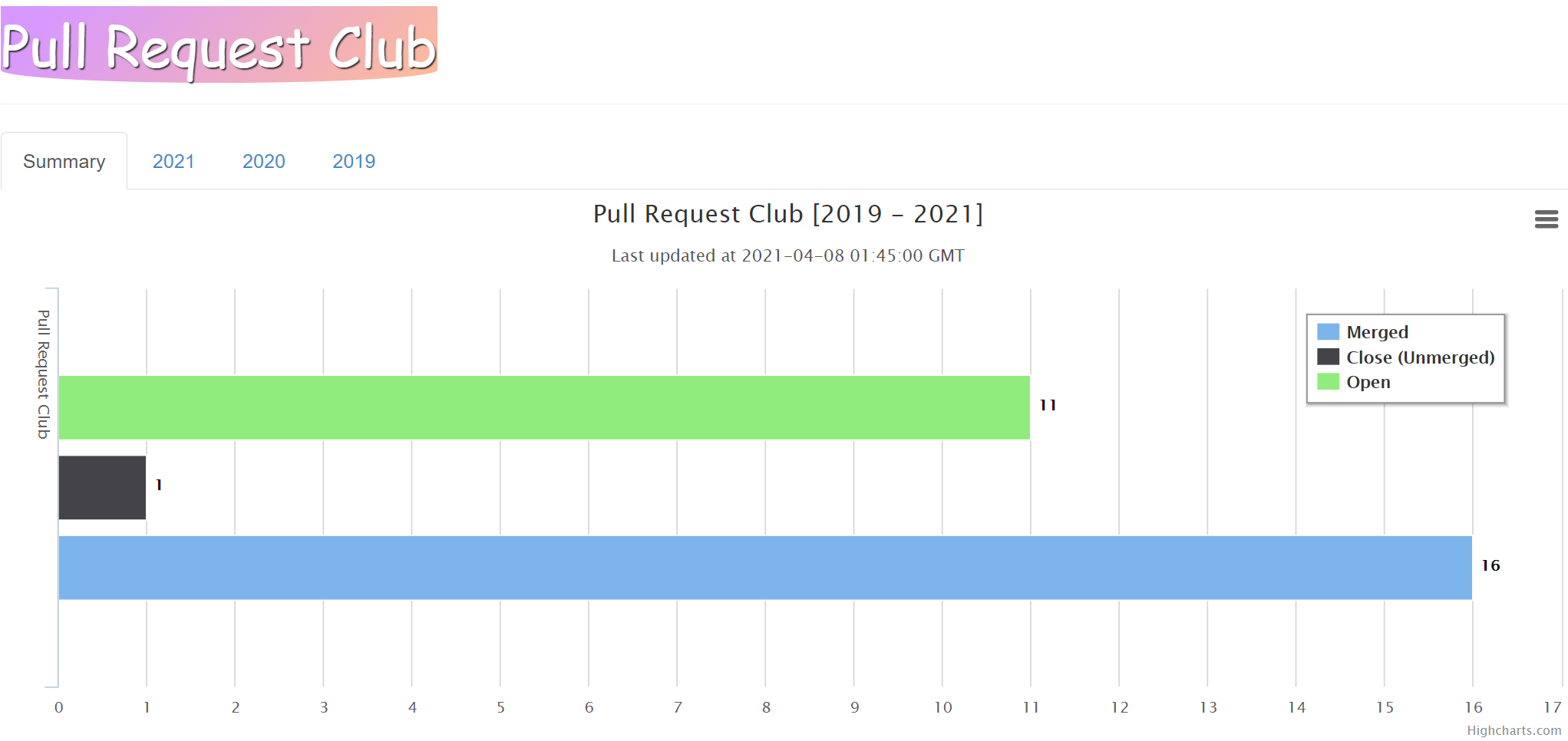 ---
Perl Blog
Last month, I blogged about the following topics.
---
Perl Weekly Newsletter
Last month, I edited two editions of the Perl Weekly Newsletter i.e. Issue #506 and Issue #508.
---
Patreon
At the end of last month, April 2021, the following people / organisation supported me in the past or continued supporting me even today. I am humbled by their generosity.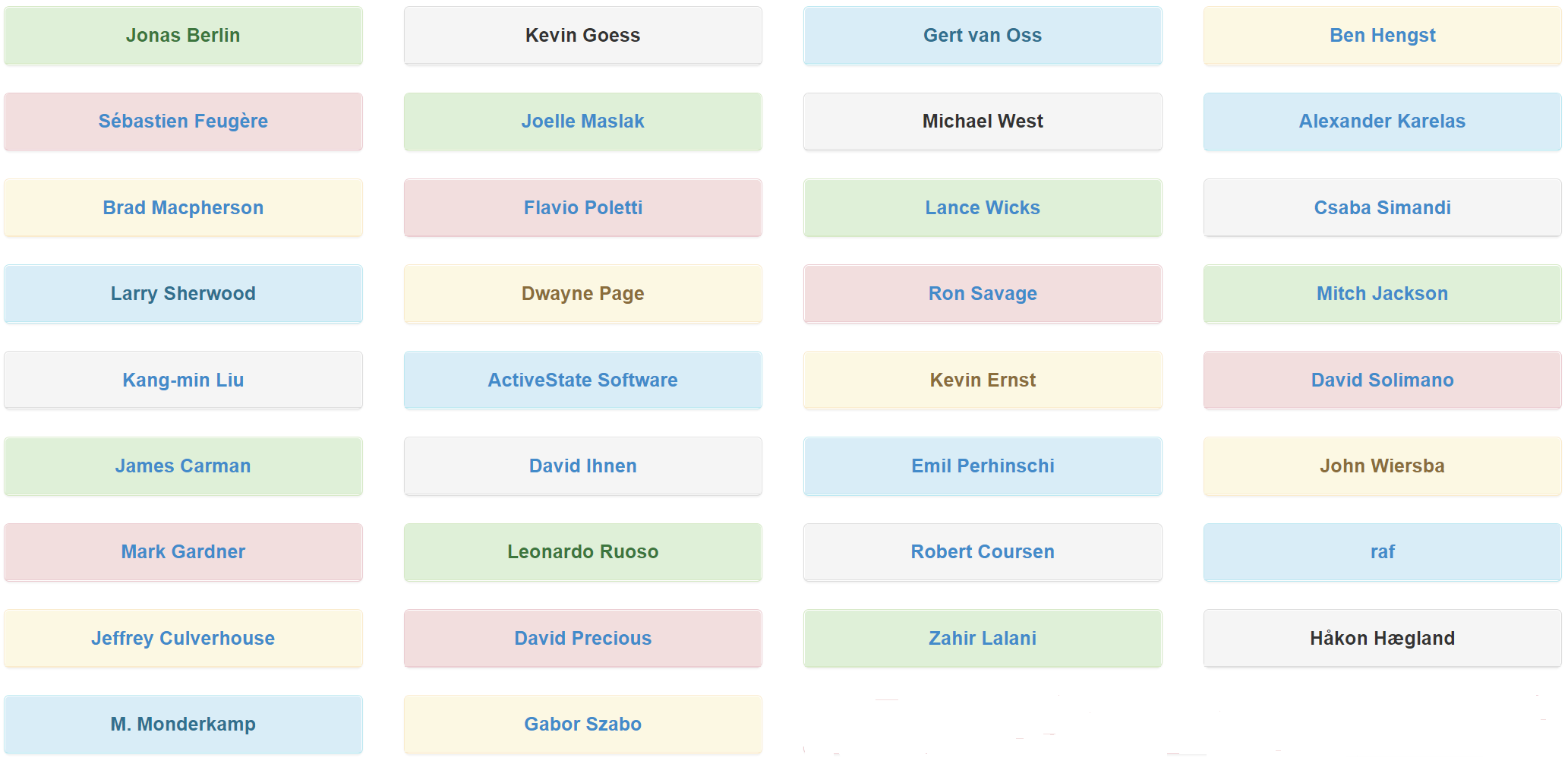 Do you want to sponsor my work?
Please follow the Patreon page.
Thank You.