Monthly Report - June

Never been so busy ...
As you all know, I have recently started taking part in the weekly challenge again. I have always complained about the lack of time doing things I always wanted to do. But then it doesn't stop me taking up new projects. I have to learn how to prioritize projects. May be one day, I will get there. Right now I am actively working on 2 new projects simultaneously. First is preparing the talk for the upcoming Raku Online Conference. It is going to be my personal journey to Raku. And the second is very close to my heart, working on my first book about Perl in association with Dave Cross.
I am not sure if anyone noticed it but the domain name for the weekly challenge has changed, thanks to Gabor Szabo. Although the title was changed long time ago from "Perl Weekly Challenge" to "The Weekly Challenge - Perl & Raku" but we were still using the original domain, perlweeklychallenge.org. I did register the new domain, theweeklychallenge.org when the change happened long time ago. I was reluctant to switch the domain as I lack the knowledge and expertise to do it on my own. I asked for help, Dave and Gabor, kind offered the helping hand. I have started the move but there is still plenty to be moved i.e. to start using "The Weekly Challenge". Please don't assume that I am loosing focus on Perl. It will remain the prime language along with Raku.
With regard to my new job at Oleeo, I have finally got to do some Perl coding at last. I must say it made me so happy. Prior to this I got my hand dirty with Ansible for the first time. It was good learning experience. I really enjoyed it, thanks to all the support I got from fellow colleagues. Although my first Perl task is not too complex but it got me to look at the database closely. Thanks to the weekly challenge, I never loose the touch with Perl and all its glory. Also I am never short of ideas when dealing with any task, thanks to Team PWC for all the smartest solutions. Having done the weekly challenge, my confidence level is always high when it comes to Perl. I remember an incident, about 15 odd years ago, team lead would always try to put me down complaining about my Perl knowledge. It did affect my confidence to some extent but luckily I left the company soon after. Ever since, I have been lucky to have very supportive and encouraging colleagues. Oleeo too has bunch of familiar faces that can easily fit into my category of best friends.
Lets talk about my YouTube videos for the weekly challenge, I have been doing the live video session on/off. In one of the recent video, Dave commented and suggested an improvement to my solution. This is the ultimate reward for me. I have had many encouraging messages about my videos. It works like a catalyst for me. Last month, I managed to do two videos as listed below. Please let me know what you think about it.
I would also like to talk about my association with "Pull Request Club", run by friend Kivanc. The original distribution assigned to me for the month June was something that I couldn't find anything simple and easy to contribute, So I kept it on hold and the last day of the month passed without any contribution. So I hurried up and contacted Kivanc for an alternate and he kindly assigned me new distribution. Luckily the new distribution belonged to Olaf Alders. I proposed tiny typo in pod as my contribution. It was promptly reviewed and merged by Olaf. Thank you Kivanc and Olaf for saving me from embarrassment.
Just for fun, CodersRank thinks I am ranked #3 Perl developer in UK behind Dave and Toby.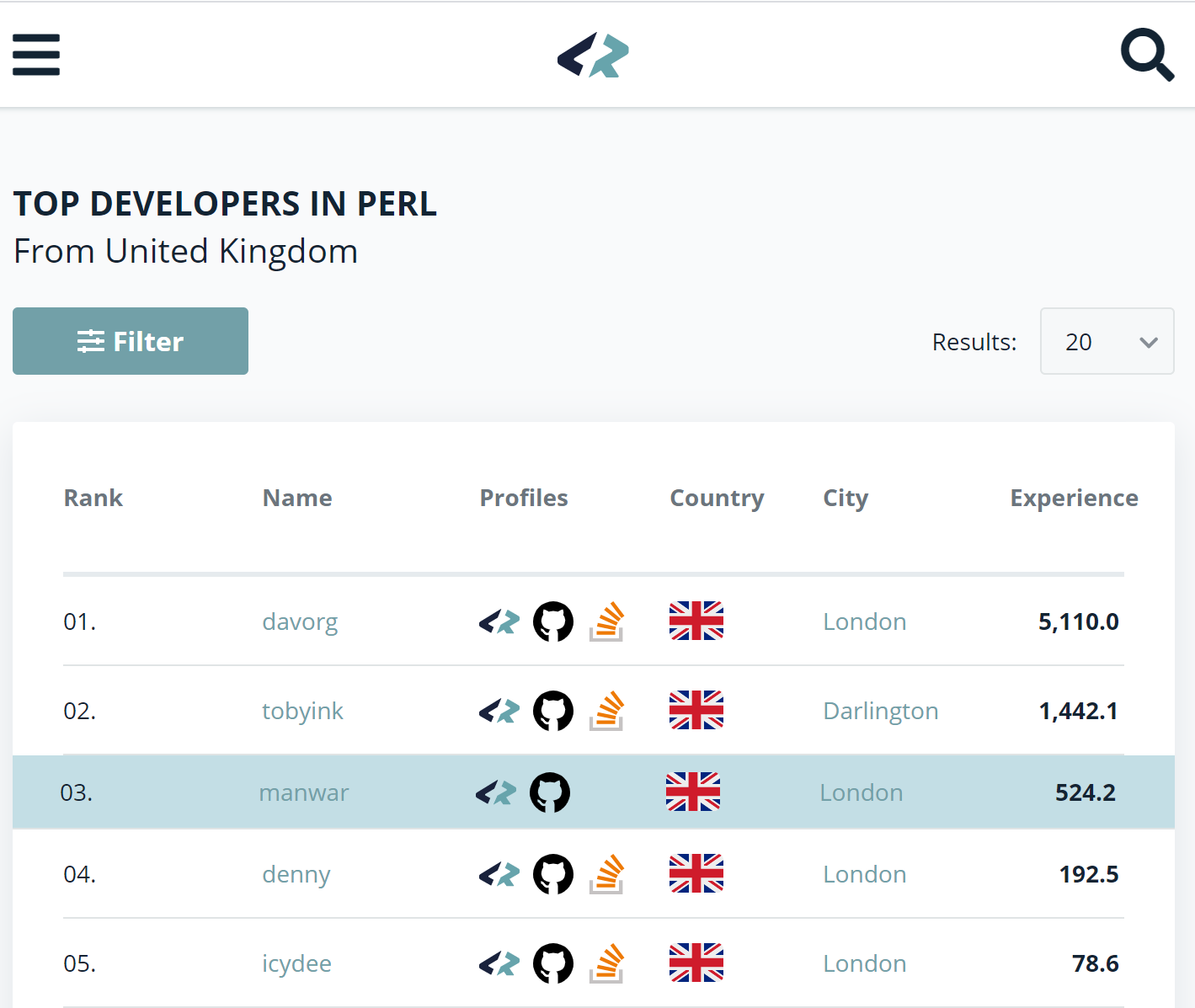 Last but not the least, I recently got the personal invitation to join Sawyer and Curtis LinkedIn network. To me, it is the highlight of the month. I can now proudly say, I belong to the group of Sawyer and Curtis. They have been my role model ever since I have known them. Just talking about it, make me so happy.
Let's take a quick look through last month main activities.
---
Pull Request
5 Pull Requests submitted in the month of June 2021.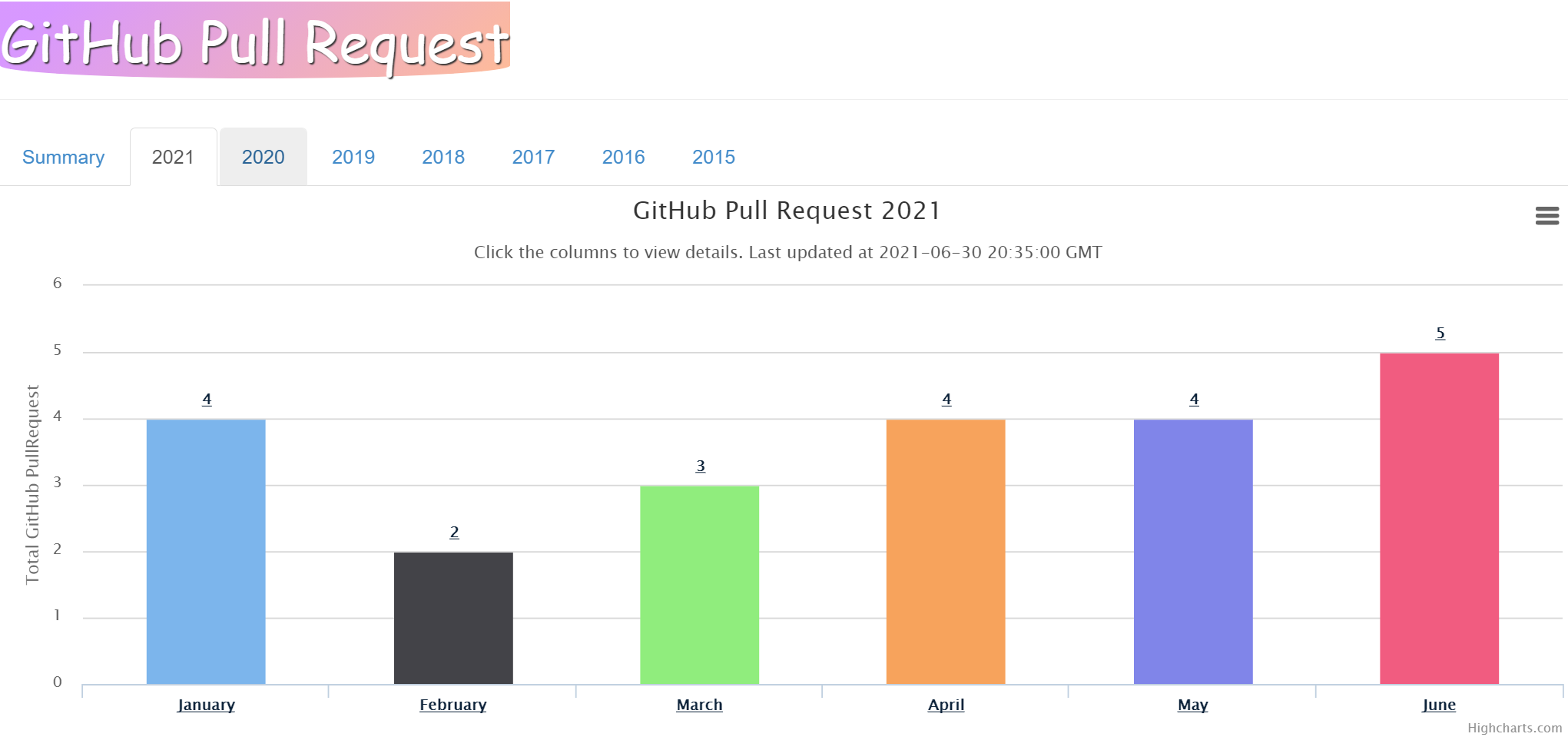 2359 Pull Requests altogether.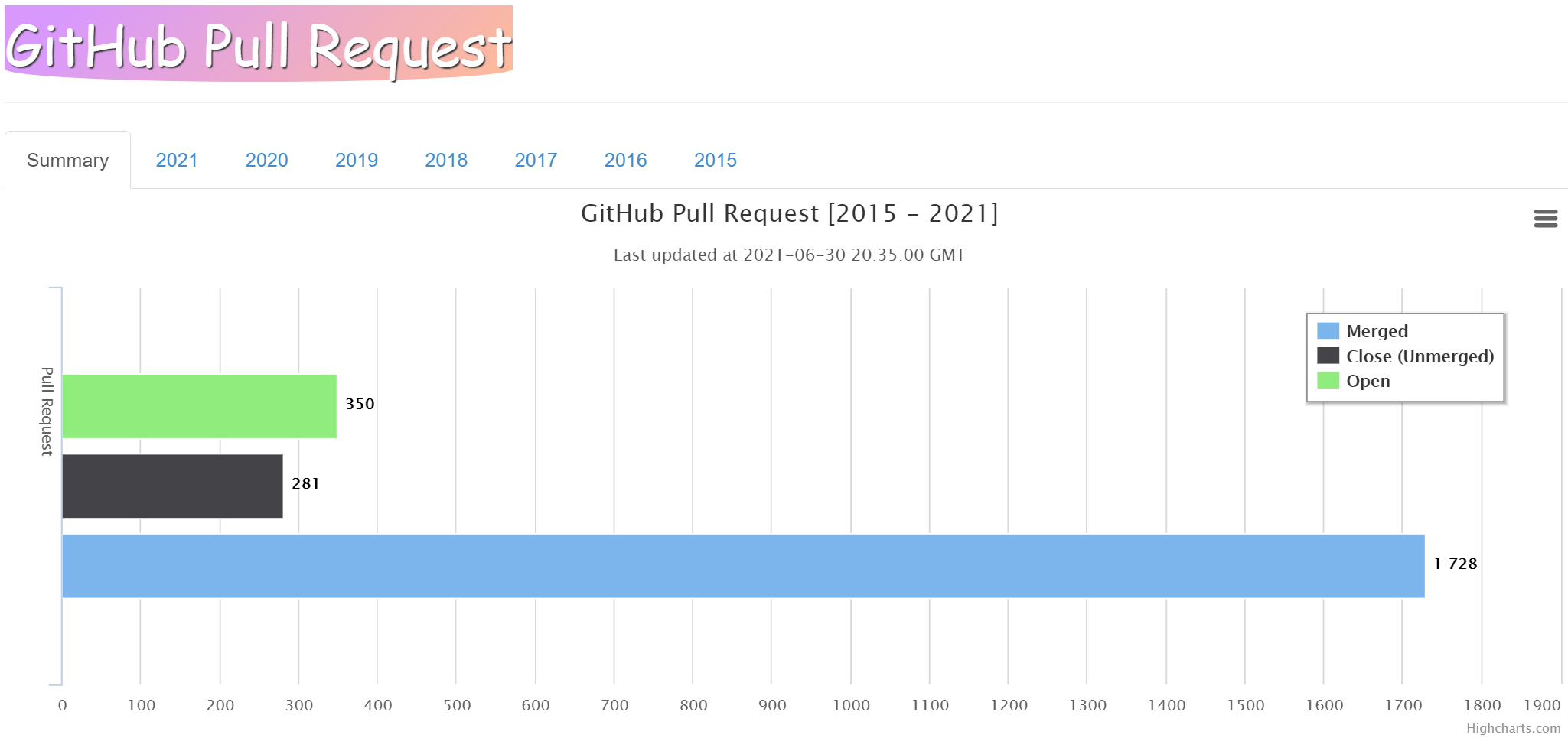 ---
Git Commits
754 commits recorded in the month of June 2021.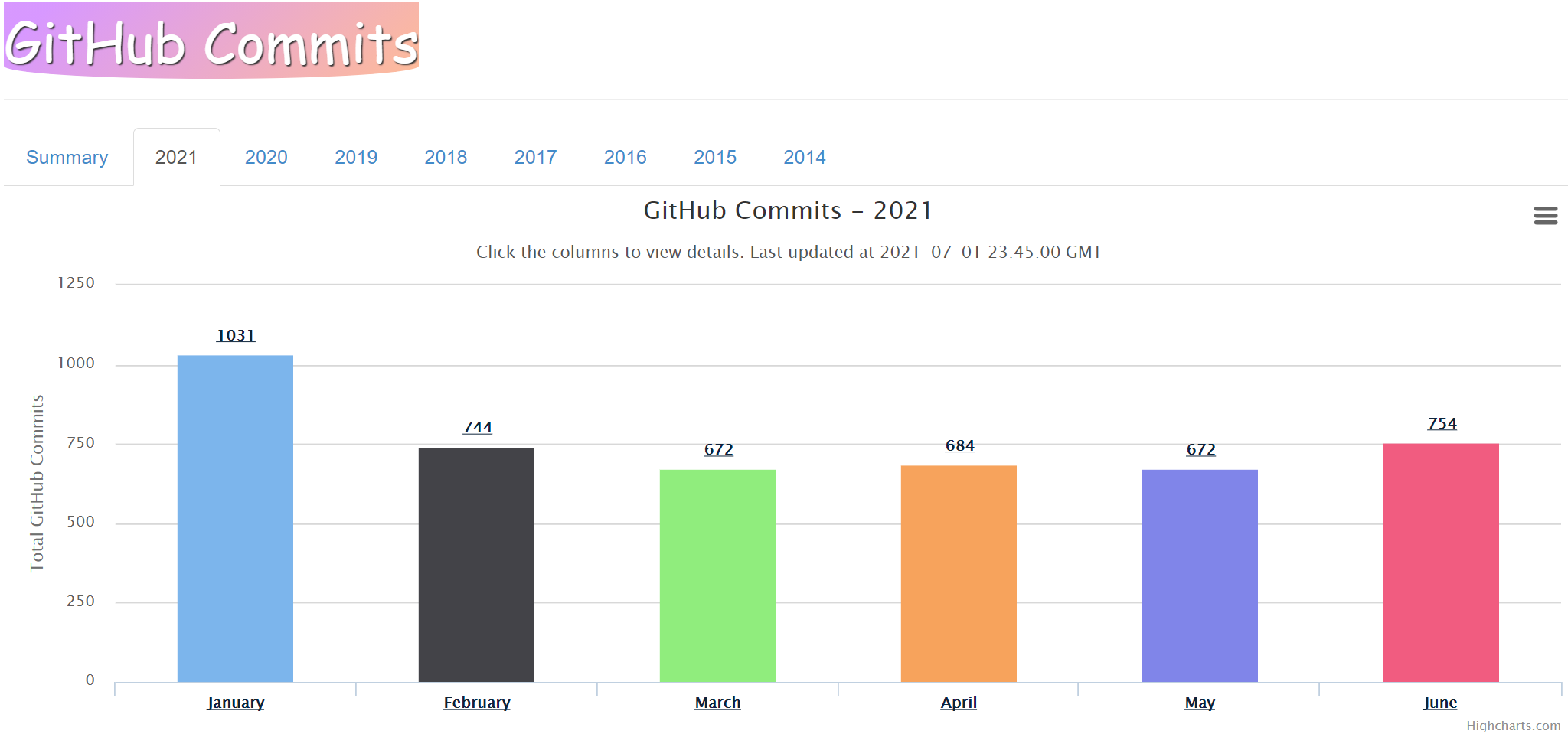 Overall 4557 commits recorded in the year 2021.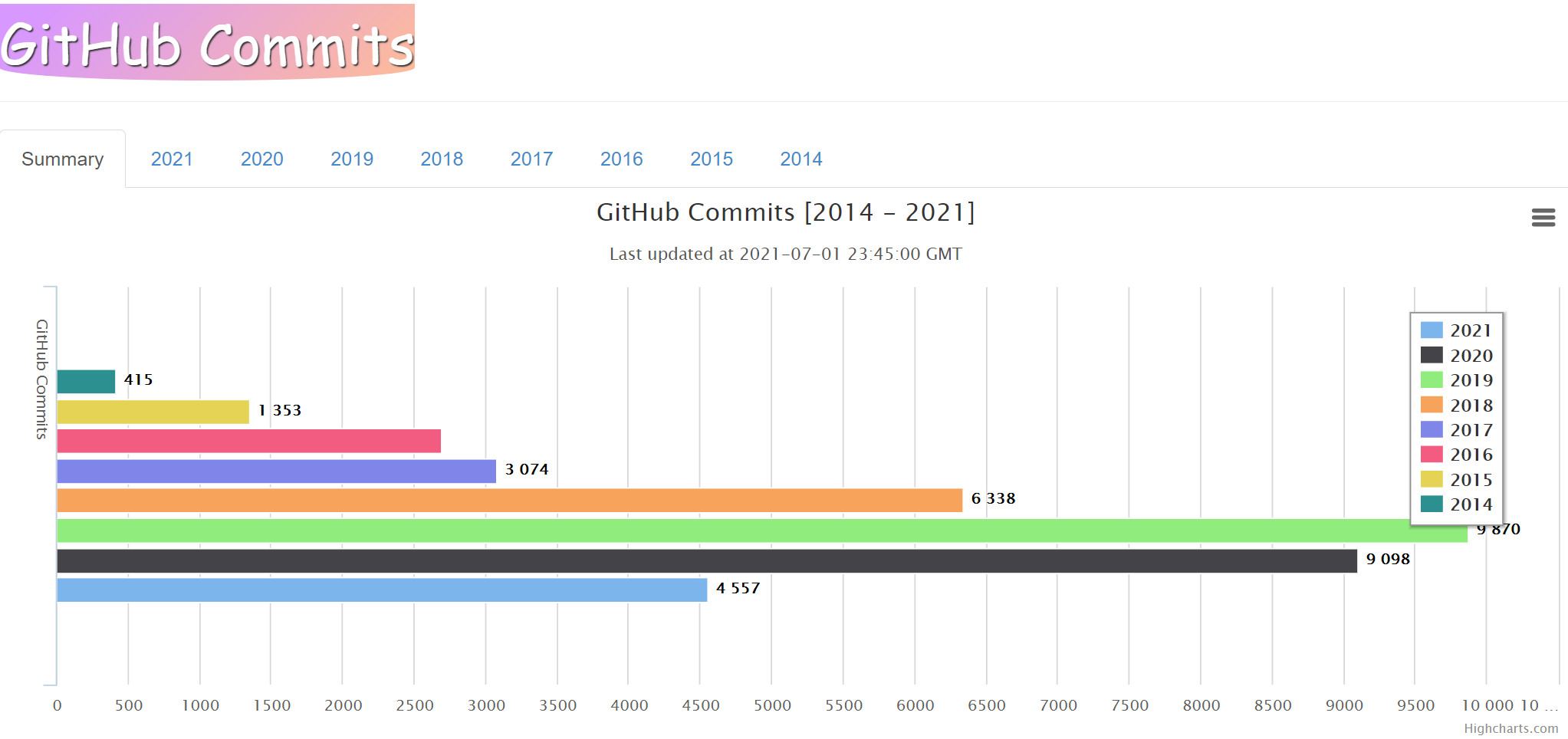 ---
The Weekly Challenge
Following weekly challenges proposed in the month of June 2021:
And RECAPS are listed as below:
---
YouTube Channel
Last month, I created 2 videos working on various tasks of the weekly challenges.
The Weekly Challenge - 117 (Task #1: Missing Row)
The Weekly Challenge - 118 (Task #1: Binary Palindrome)
There are plenty of videos available on my YouTube Channel. If you like the video then please do subscribe to my channel so that you don't miss the weekly fun live coding videos.
---
Meet The Champion
Last month, we declared Pete Houston as the Champion of The Weekly Challenge.
If you are interested in past champions interview then you can find it all here.
---
Pull Request Club
Last month, I received HTTP::Cookies by Olaf Alders. I submitted one Pull Request and it has already been accepted and merged by Olaf Alders.

Overall participation to Pull Request Club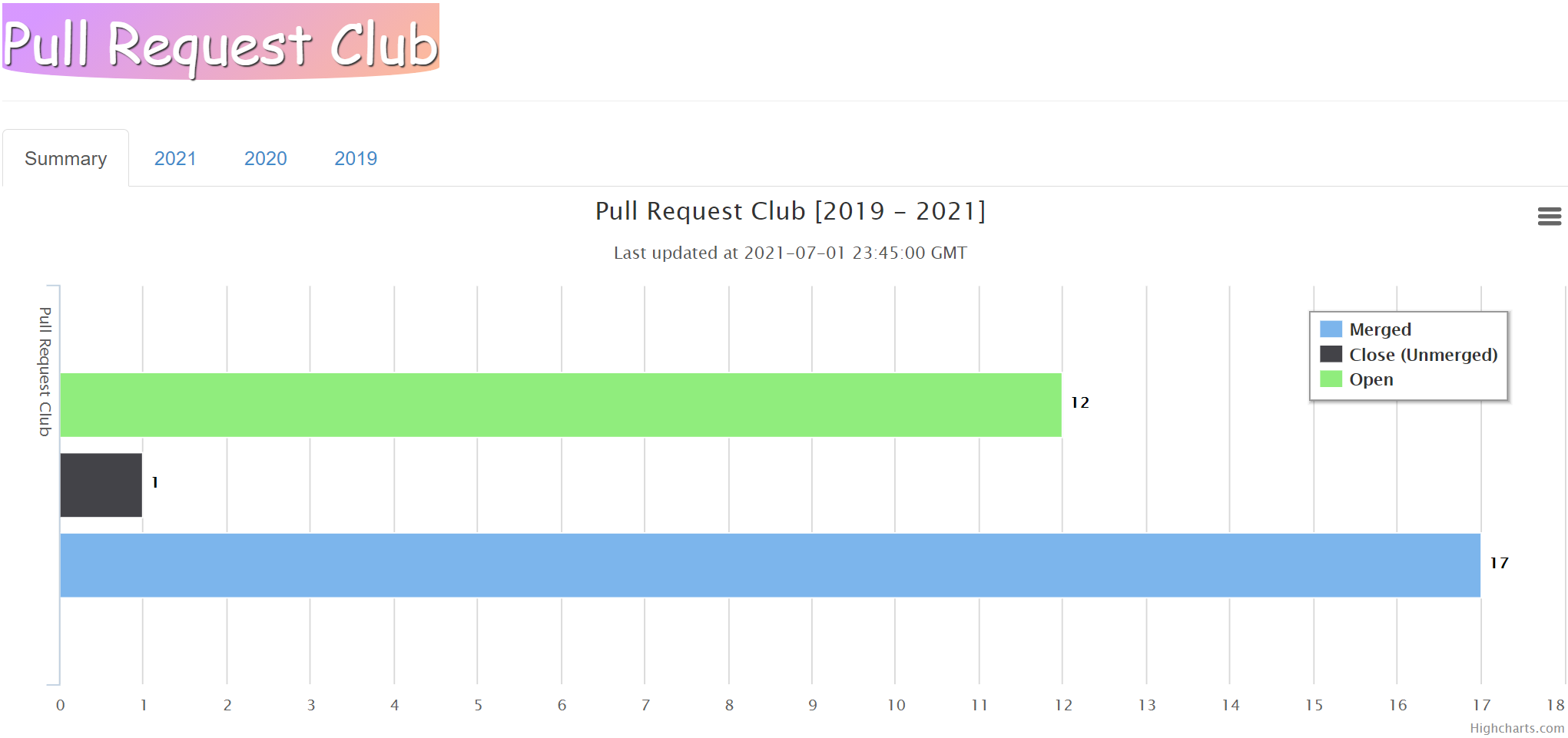 ---
Perl Blog
Last month, I blogged about the following topics.
---
Perl Weekly Newsletter
Last month, I edited two editions of the Perl Weekly Newsletter i.e. Issue #516 and Issue #518.
---
Patreon
At the end of last month, June 2021, the following people / organisation supported me in the past or continued supporting me even today. I am humbled by their generosity.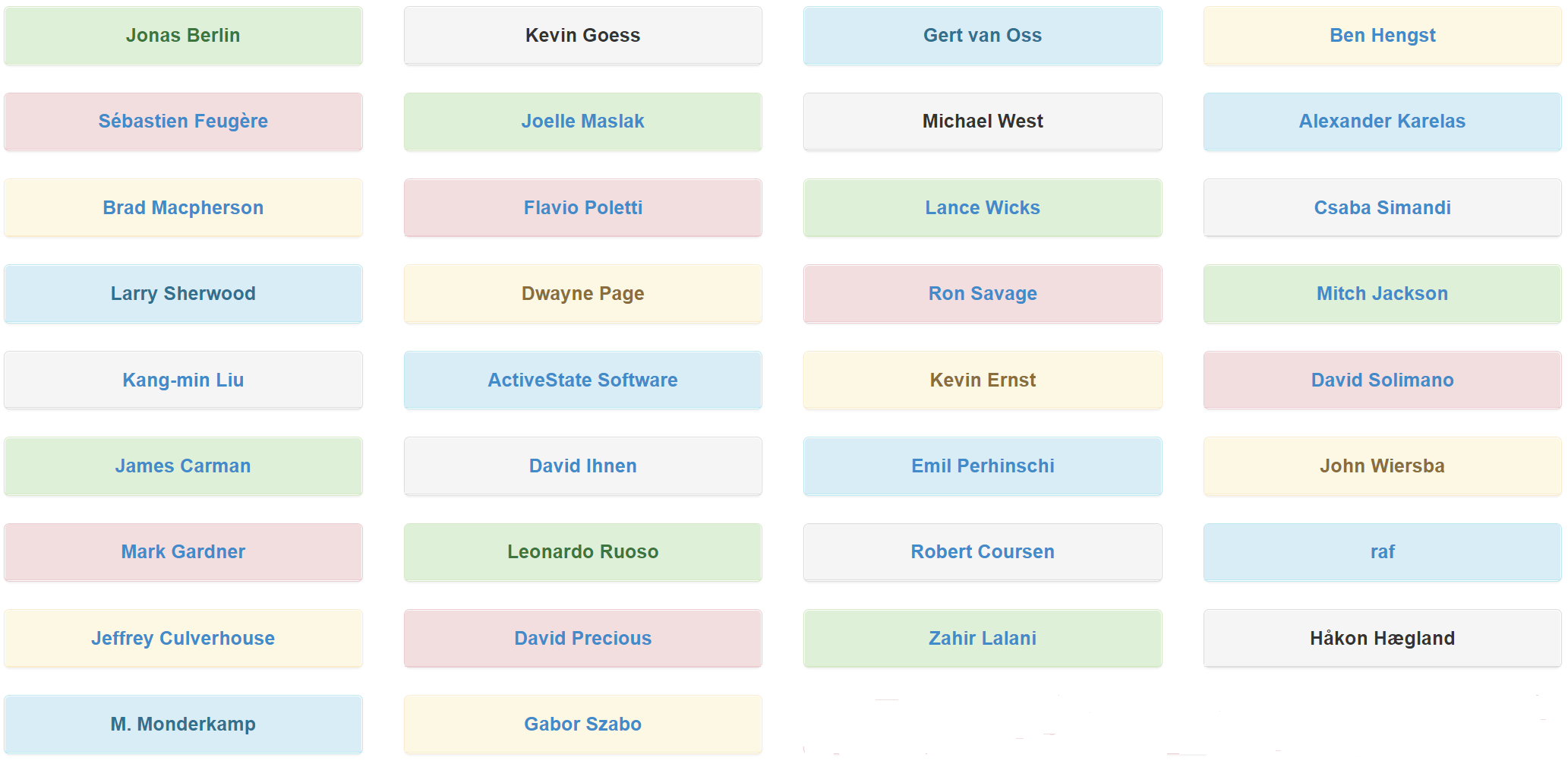 Do you want to sponsor my work?
Please follow the Patreon page.
Thank You.