MetaCPAN Welcomes iDoneThis as a Sponsor
I've been doing a fair amount of mentoring work over the last couple of years with the Google Summer of Code (GSOC) and the GNOME Outreach Program for Women (now Outreachy). I've tried various ways of tracking progress of the interns, with varying degrees of success. What I've settled on and what has worked best for me is iDoneThis.
The beauty of this service is its simplicity. It's calendar-based and it lets you track two things: what you plan to do on a given day and what you've actually done on a given day. Teams can share this info and then "like" and comment on them. That's basically it. You can either log in to the site or just respond to an email. I have to say that I really like the simplicity of email as an API, even if I do prefer to log-in to enter my "dones".
This allows me to scan a week or a month at a time and see what the interns have been up to. I ask for some kind of "dones" on each day that an intern is scheduled to work as a way for me to track progress as well as blockers. I've really enjoyed using the service, so I was very pleased when iDoneThis agreed to support MetaCPAN and give us their paid service at no cost.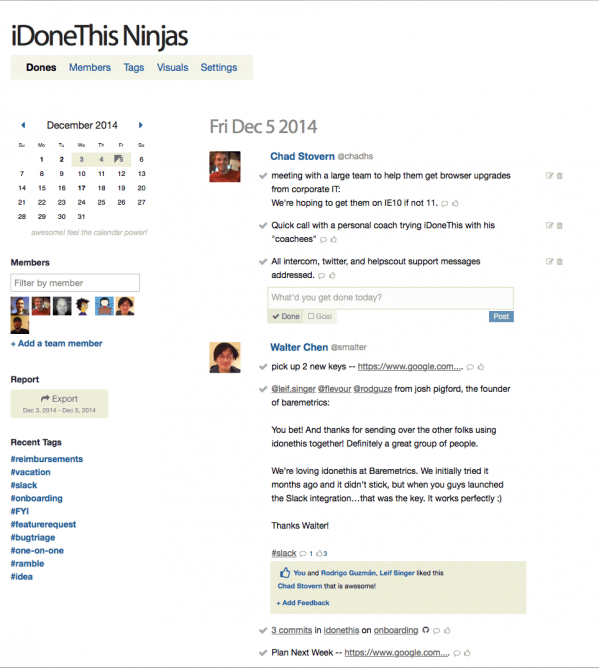 Progress, Every Day
Reply to an evening email reminder with what you did that day. The next day, get a digest with what everyone on the team got done.
It's that simple. No hassle, no micromanagement. Get stuff done, and celebrate it with your team.