Having been a fan of Mojolicious for a few years it is only reasonable that I pick it as the platform but this time instead of going with my usual default layout and architecture I wanted to give the Toto plugin a whirl.
This plug-in provides a bootstrap flavoured navigation framework. So you can get a nav bar running across the top one, a side bar for and a row a and also a row of tabs underneath each side bar.
Well out of the box with about 3 mins worth of install and a cut and paste from the PDO one gets this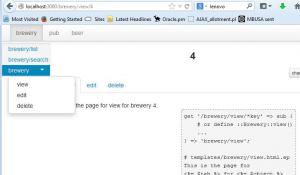 Ok that was painless it even gives you a little hint at what the controller is doing on the side for Toto newbies like me.
Well lets goes back a second and think what I need to display for my AD&D Moose stuff. Well I really just have two parts done so far,
Create a Character and
Display a Character